Web Shop Manager - How To Make Money Writing Blogs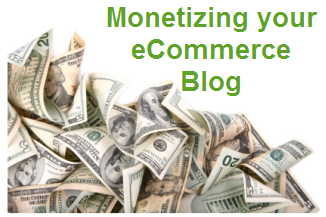 The ultimate goal of an eCommerce blog is to make money. It may be a simple goal of paying your eCommerce hosting fees or perhaps you have grander visions in mind. Whatever the goals are for your eCommerce site you will need to get consistent traffic in order to make any of the following revenue generating suggestions profitable.
In order to drive traffic to your site I suggest you take a look at a previous post in the series "Developing an eCommerce Blog" entitled "How to Title an eCommerce Website Blog Post and Promote it too!".
Now let's explore a few options on how to make money writing blogs:
SELL PRODUCTS ONLINE
Sell Your Own - WSM's eCommerce Modules makes it easy to post your own product and make money online. The new 1-step checkout system should make it even easier to convert 'lookey-loos' into paying customers.

Create Branded Items - You can create products with your own logo or designs to sell using sites like Zazzle, or Café Press to further your brands reach with promotional items. Both sites use your designs, and when a customer orders an item they print the item and drop ship for you. You can create a separate site, if the look doesn't suit your current site, or integrate it directly into your existing offering.

Affiliate Sales – The apparel and fashion website designed by WSM, Bcat Threads is a great example of combining several designers into one site. This not only makes the site look full of unique products, but allows the individual designers great exposure to a larger audience.
AD NETWORKS
Pay per Click (PPC) – This means that you, the host, only get paid when an ad is clicked. There are many ad networks that work this way and several include: Google Adsense, Chitika, and Commission Junction.

Pay by Impressions (CPM) – (stands for cost per thousand) – These networks pay you for each 1000 page views rather than actual clicks. The cost is usually $1 or so per 1000 page views. Consider these services as examples of this method: Tribal Fusion, and ValueClick Media.
DIRECT AD SALES
Individual Vendors - If you are interested in vendors buying ad space on your site, prepare a media sheet with analytical data including how many visitors, page views, average time on site, etc, so they can see the value in their advertising dollars. You should make it clear on your homepage that you are happy to entertain more ads.

Trading Spaces - Consider trading ad space with another complimentary but not competitive site which can attract other companies to buy direct ad sales or at least generate more traffic. This will benefit sales of your products and earnings from ad networks affiliation.
Which ever method(s) you explore for your particular tastes and efforts I encourage you to read the fine print and don't commit until you've explored a substantial amount of opportunities.
Next month I'll explore attracting and "retaining loyal RSS subscribers", and how to keep them happy and commenting members of your community.
Emily Dunn
Dana Nevins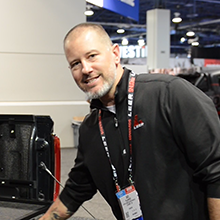 BEDSLIDE - Client Testimonial
"The best thing out of everything was that our sales went up. The new site had a better design, the checkout process was better, and ultimately achieved all of our goals. That site has been up for a year and a half and we're very happy with it, it's still awesome." - Jake Plappert