Designed to Drive Conversions
Great automotive website design directly influences a variety of revenue driving eCommerce metrics. Consider bounce rate, conversion rate, or time on site for example. Can the visitor easily find exactly what they need on the website? Does the visitor have confidence the selected part will fit the vehicle in the driveway? Is the website experience excellent on every device?
eCommerce web design is difficult enough, add in the wrench of fitment and attributes and there's a level of complexity that many industries don't have to account for. Your data is the foundation of your shopping experience and can either inspire confidence and conversions in online shoppers, or it can lead them to doubt they are in the right place. Aftermarket parts shoppers need to feel confident as they consider buying parts from your website and for the last 20 years, Web Shop Manager has been providing companies like yours with the tools, expertise, and service to succeed. Following our tips below to guide your website's visitors quickly and confidently to checkout.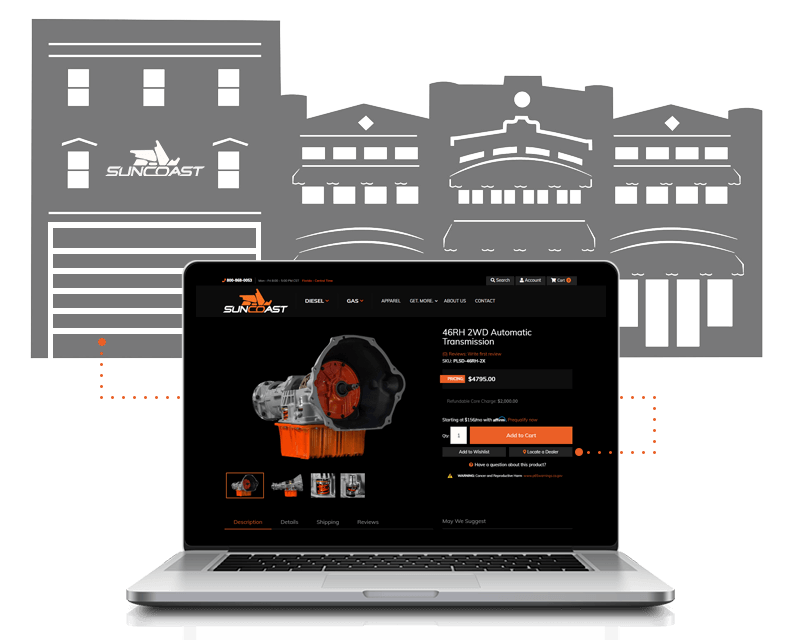 An SEO Foundation That Drives Growth
Automotive eCommerce web design only drives revenue if searchers can actually find your website. The basis for good SEO (search engine optimization) is a website structure that serves individuals at all levels of the buying process.
When an individual needs parts or accessories for their vehicle, they can attempt to search in several different ways.Consider the following avenues your website's visitors might search:
Search for a specific brand (ie "weathertech accessories")
Search for parts for their vehicle (ie "parts for 2022 mustang")
Search for a solution to a problem (ie "best tires for snow")
Search for a broad category with vehicle (ie "performance parts for 2022 mustang")
Search for a specific category without vehicle (ie "cold air intake")
Search for a specific category with vehicle (ie "cold air intake for 2022 mustang")
Each of the above examples would represent a completely different page type necessary to maximize traffic. The foundation of SEO is having pages that are relevant to all of the ways individuals search for the products you sell. A good foundation maximizes your opportunity at revenue. A poor foundation is limiting.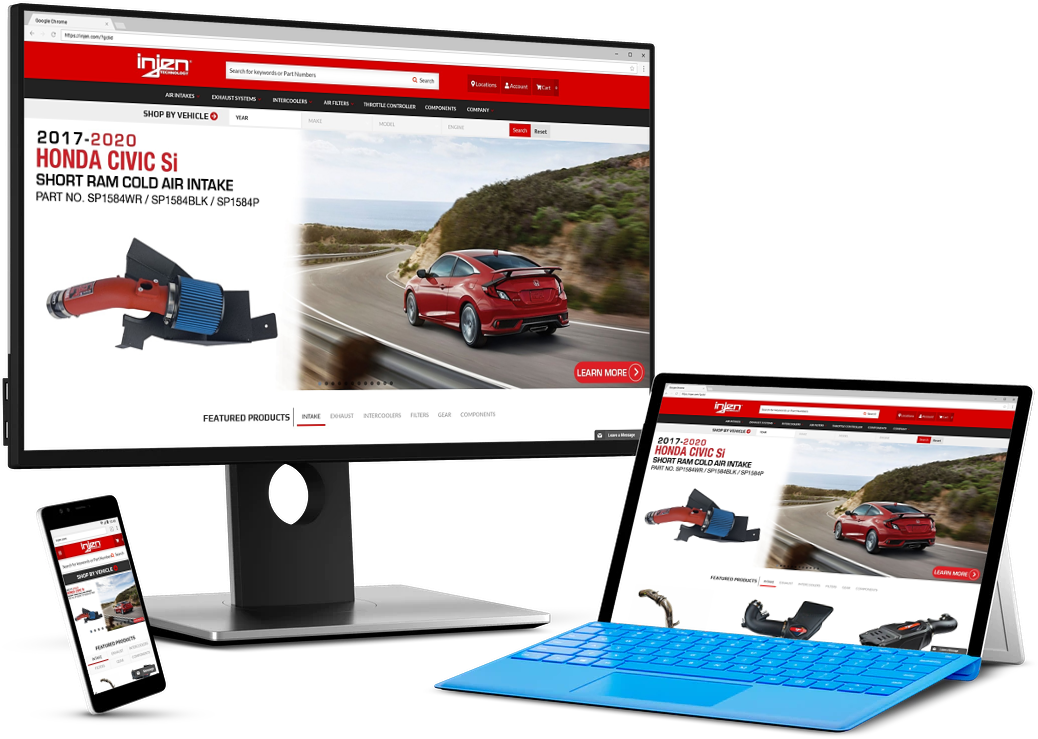 Elite Automotive Website Speed
The latest iteration of the Web Shop Manager eCommerce platform (WSM 5.0) has been optimized for Google's new Core Web Vitals Update. This is all about the "on-page experience" and one of the most important factors is speed.
Increased speed creates increased revenue. Website speed is crucial in automotive, where the complexities of the data can bog down an inefficient database which frustrates consumers and lowers conversion rates. Just a 1-second difference over a competitor provides a significant advantage!
The speed of the website also benefits SEO, providing an increase in the rankings to enable more shoppers to find your website.
Native Year-Make-Model Search
A year-make-model (YMM) search is designed to help customers narrow down their product results to show only the parts that fit their vehicle. They're commonly displayed on automotive websites as drop-downs. There is an incredible difference between a website that needs an integration or plug-in year-make-model search and a website that has a native YMM search.
What's the difference between native and a plug-in? A plug-in is typically 3rd-party code that is added to an existing website. If your website is built with BigCommerce or Shopify, for example, those platforms are not built for automotive so your website will require a YMM plugin.
Web Shop Manager has a built-in year-make-model search which offers you a major competitive advantage over non-automotive eCommerce platforms! The advantages include seamless integration with the website's design, speed of the website, faceted navigation and no need for code maintenance.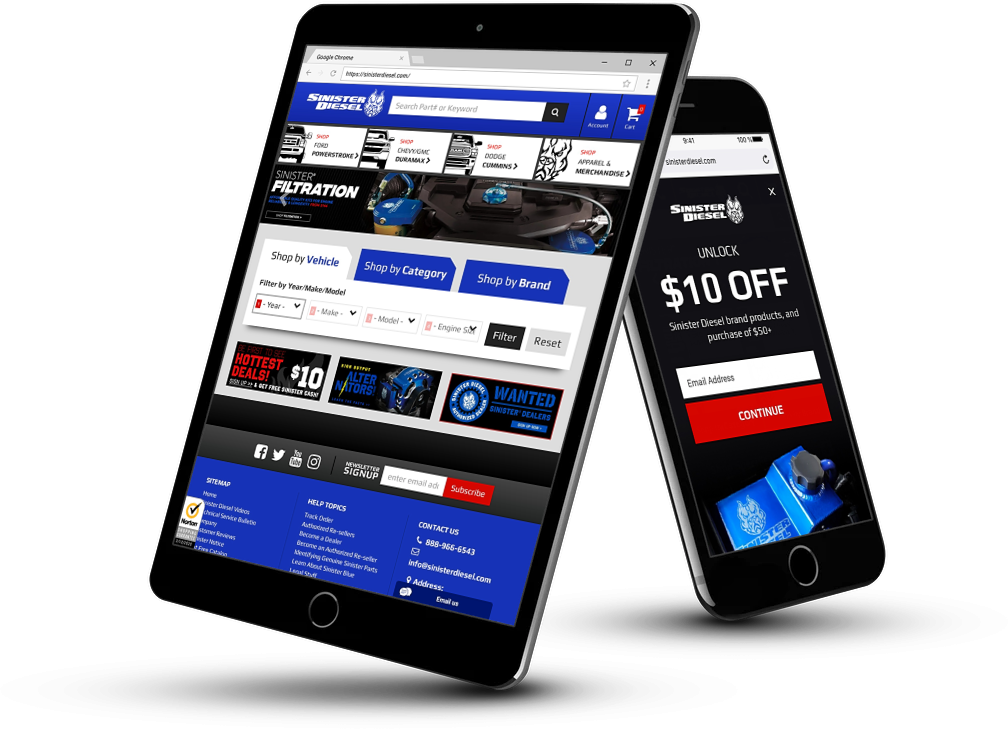 Creating Trust in Shopping Experience
One of the several factors that can cause your shoppers to buy elsewhere is lack of trust - which a great web design can solve. Data shows that when a user has trust, they're far more likely to purchase.
Your shoppers need to be able to navigate questions like:
What should I do next?
Does this part actually fit my vehicle?
Do I have a double cab or crew cab?
When will this product ship?
Is it safe to run my credit card and personal information through this company?
If a visitor hopes their product will fit and hopes they'll receive the product before their vacation, they're far less likely to convert than a visitor that is confident due to the web design's excellent communication. Ease the mind of your visitors with a shopping experience that eliminates friction points and creates trust.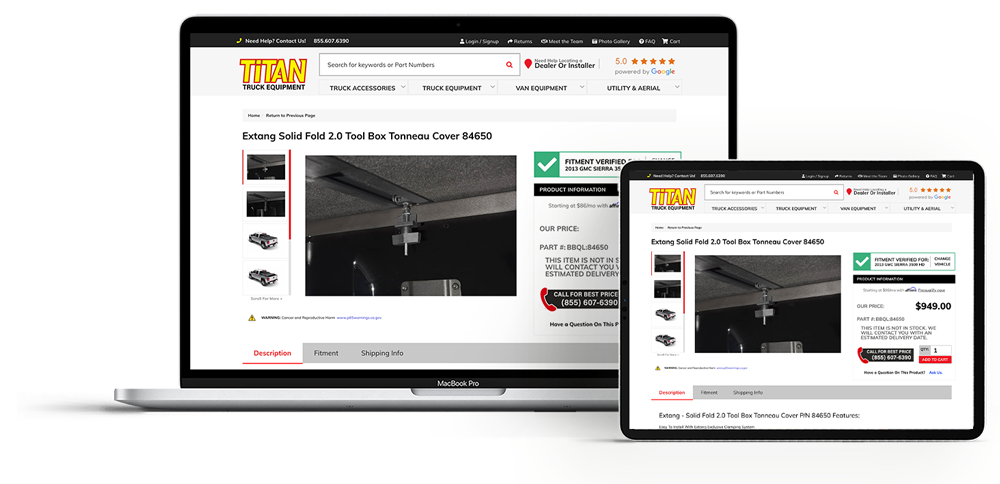 Design Elements that Highlight Product Value
The average time that a visitor spends on a website does not allow them to consume all of the text on category pages, brand pages, or product pages. Design elements that communicate the written text in a different, more creative and uniform way can dramatically increase the conversion rate - especially in automotive!
Consider the example of shopping for an exhaust system. The price and quality of image matter quite a bit as with any product category list page - but it's the sound that people can't easily compare. A design element that graphically compares the aggressiveness of the exhaust system would be a great method of communicating the difference - saving the visitor time, allowing them to make more-educated clicks, and increasing their propensity to purchase.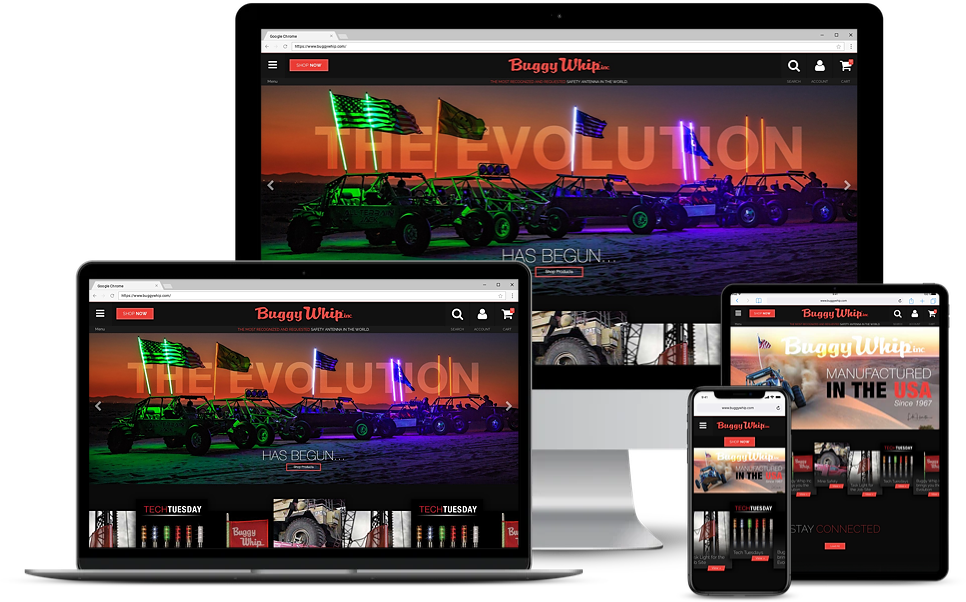 Built Mobile-First
Shopping for automotive accessories has changed greatly over the last decade, and Web Shop Manager has transformed with the times. The addition of Google Shopping and the mobile browsing domination (as compared to desktop) have altered the automotive website design the most!
The majority of shoppers in automotive are searching and browsing from a phone. On average, the website has less time to engage the mobile visitor and is dealing with someone that has a propensity for a divided attention span.
Automotive website design on mobile should avoid distractions and only require necessary information from visitors to allow them to shop confidently. The speed of the Web Shop Manager platform provides another competitive advantage that is intensified on mobile devices.
Mobile Optimized Design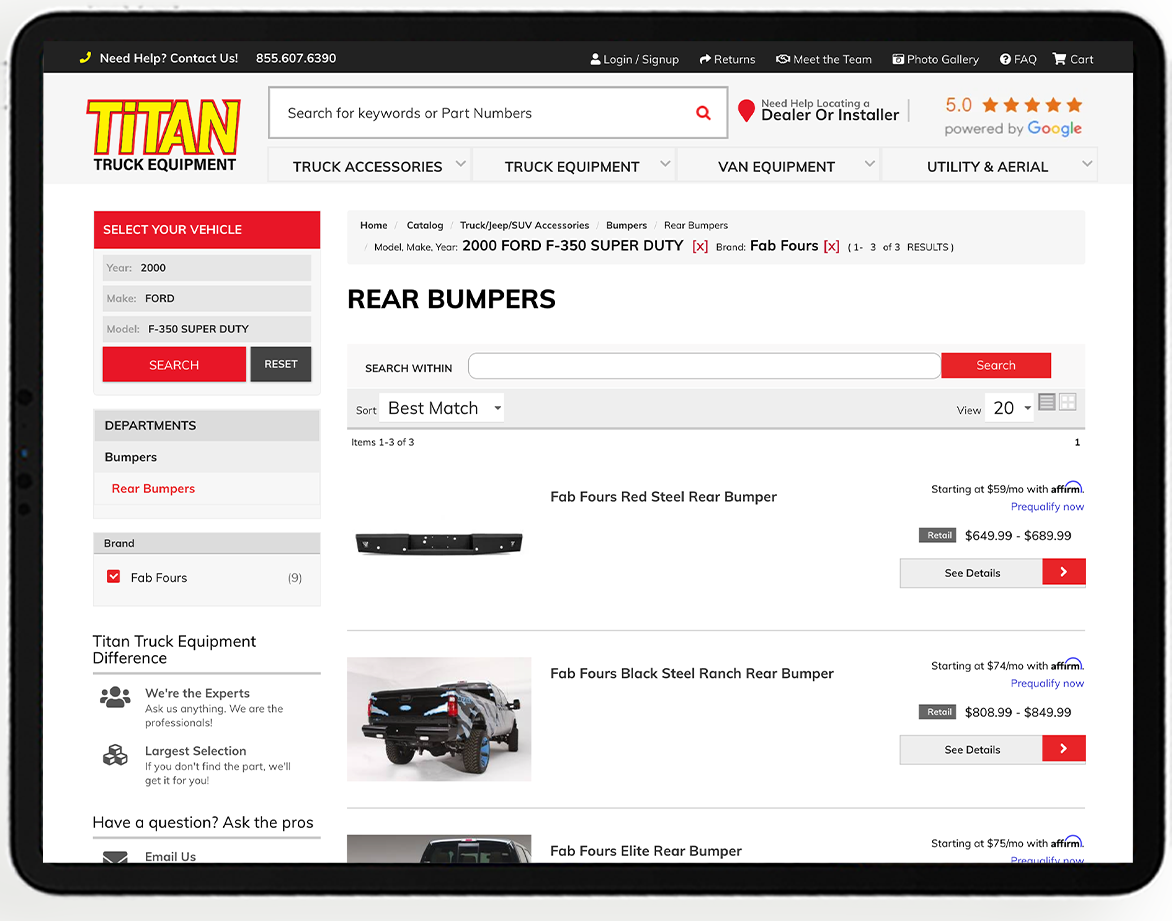 Faceted Navigation that Boosts Conversion Rate
Faceted navigation is the technical term for the checkboxes that help shoppers narrow their product results. Web Shop Manager provides a variety of options, enabling your website the flexibility to narrow product results by product type groups, product series, and other forms of attributes.
Whether you're selling wheels, lift kits, exhaust, or tonneau covers - providing great filters is a key component of conversion rate. To most shoppers, these products look the same! Great filters allow the shopper to make an educated click from a category page to a product that fits their needs - increasing consumer confidence and conversion rate.
Coupon/Promotions Manager

Coupons and promotions are a great way to drive up sales in automotive eCommerce! Web Shop Manager provides an easy way to run promotions on products by brand or category.

Hundreds of Thousands of Products

Web Shop Manager is an excellent platform for parts from brand/manufacturer websites that have only a few parts to retailers that have 200,000-400,000 products. The native year-make-model, faceted search, internal site search, and expertly-designed flow of the website maximizes the user's time by making parts easy to find which in-turn maximizes the website's revenue.

Site Search that Works

The Web Shop Manager platform provides an internal site search that is easy to find, intuitive, and aids visitors in finding exactly what they need.

Intuitive Categorization and Menu Navigation

The navigation of the Web Shop Manager automotive eCommerce platform has total customization within the design of the website.Products can be categorized into multiple categories, filtering can be customized to provide the ideal shopping experience, and everything is easy to edit in the admin of the website.