Web Shop Manager - Digital Marketing Trends You Should Act On
Website marketing is all about using the broad fundamentals of traditional marketing strategies -- engagement, interpretation, and adaptation. Web analytics tools have made it easier to gather data and make that data work for your business, so it's just a matter of knowing what to do with the information that's at your fingertips.
Below are five trends in digital marketing that have become keys to success online today. These trends should be considered pointers on how you can make the most out of your ecommerce website business and its untapped potential.
1) Follow the Data Footprints of Your Consumer
When a person browses the web, he or she will leave a data footprint behind. This just means that they accessed your site in a certain way (e.g., via search engine, via banner ad, via social media), there are certain interests reflected in their browsing patterns, and there are certain brands or products that appeal to them most.
You can trace these footprints on your own website by looking at your data through Google Analytics or other web statistics tools and properly evaluating it. Through proper interpretation of this data, you'll be able to get a more complete picture of your consumers and their values. Just as you suspected, they are more complex and interesting than the final transaction.
2) Measure Conversions Through Social Media
We always stress how important it is to have a social media presence on Twitter, Facebook, Google Plus, and other platforms. But a lot of presence means little when you're unable to turn it into actual customers and conversions.
Once again, it's important to consider all of the data you're getting about your use of social media. What types of interactions are getting you a lot of traffic, visibility, and sales? Keep these concerns in mind as you refine your social media strategy to better interact with consumers and grow your business.
3) Use Data to Refine Your Marketing Focus
We mentioned adaptation as an important part of website marketing, and this point is where it really comes into play. Web marketing is also about retargeting and remarketing, meaning that you need to use the data you have to improve your current marketing strategy.
If you're noticing certain similarities in the digital footprints of your consumers, consider how you can adjust your current marketing strategy to meet those trends. Similarly, use the data you have from social media to create interactions that are in line with these trending digital footprints.
4) Email Marketing Shouldn't Be Neglected
Even though there's a lot of stress placed on SEO and social media, you shouldn't forget how effective a good email marketing strategy can be. Newsletters and promotional emails to customers are a great way to cultivate repeat business and maintain a connection with your customer base. These emails can be product updates and website updates, or you can use these emails to discuss special deals coming up on your ecommerce website.
5) Never Forget the Importance of Quality Content
Even though SEO and social media will get you noticed and your data will help you understand your consumers, we can't stress this enough: quality content is key. That goes for the content developed for your actual ecommerce site and product descriptions, as well as any associated blog posts and emails. Your content is your brand, so never take it lightly and don't skimp on quality.
Informative, compelling, well-written content will sell your business, your products and your brand once a person sets eyes on your website. Just keep this in mind as you generate content and reach out to potential consumers.
By:
Dana Nevins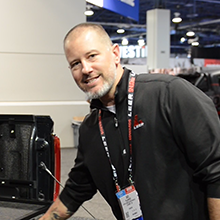 BEDSLIDE - Client Testimonial
"The best thing out of everything was that our sales went up. The new site had a better design, the checkout process was better, and ultimately achieved all of our goals. That site has been up for a year and a half and we're very happy with it, it's still awesome." - Jake Plappert