Owned, Paid, and Earned Website Marketing - What You Need to Know
Marketing your ecommerce business on the web can be a real challenge, especially since it may be difficult figuring out how to start and where. Knowing both the how and the where can get your business off to a good start, or help unlock the full potential of your online business.
There are three basic kinds of website marketing strategy that ebusinesses need to master:
Let's look at all three and what they mean for your business.
Website Marketing That Uses Media You Own
Owned website marketing is basically your ecommerce website, the blog or blogs associated with your ecommerce business, and your business' social media channels (i.e., Twitter, Facebook, Google Plus, etc.). It's your space on the web that you control. All of these elements are an essential part of building your brand identity and revealing the values your eComerce business stands for.
First of all, your ecommerce website is the virtual store that provides goods to customers, cementing your reputation and your identity as a brand. Using social media and your blogs, you can promote your business, further define your brand identity, and alert customers to sales and specials.
This is the core of a web marketing strategy, obviously -- without it, you wouldn't have anything to market -- but this alone is usually not sufficient for successful marketing campaigns. That's where the next two elements come into play.
Website Marketing That You Pay For
The website marketing that you pay for refers to paid advertising on the internet. One of the most popular and common forms of this is pay-per-click ads. With PPC ads, you can get found on Google, Bing, and other search engines for certain keywords and key phrases that are associated with your products and ecommerce business. Another option is to have banner ads on websites so your brand becomes visible and gets noticed.
Conversions based on PPC campaigns and banner ads can vary, so it's important that you do your research when it comes to the keywords you want to target and the venues on which you want to advertise. By consulting with experienced SEMs and SEO analysts, you can get plenty of great guidance that will support your overarching website marketing strategy.
Website Marketing That You Earn
The website marketing you earn refers to what other people are saying about your business and products on the internet. This could mean what your customers are saying on Facebook and Twitter, product testimonials/reviews that are on your site and on the net, or what potential customers are saying about your brand.
While your business is in control of owned and paid website marketing, earned website marketing is unpredictable. You can't control what people say about you, but that can actually be the fun part. Earned website marketing is something that you should encourage and nurture.
Use your website, your blog, and social media platforms to interact with your customers and potential consumers. Ask them questions, start dialogues that others can engage in, show that your ecommerce business has a face and a personality. You can think of this less as marketing and more as building a community around your brand.
Putting It All Together: A Smart Three-Part Web Marketing Strategy
Successful businesses use all three of the above marketing options smartly since they are interconnected and interrelated. Paid marketing and earned marketing can help you get found, but it's the online marketing strategies and tactics that you own that helps you establish strong relationships with consumers and turns them into loyal repeat customers. These loyal customers become champions for your brand and help spread the word to the people they know, building more discussion about your business online. As you grow via social media, you can adjust your approach to paid marketing as needed to spread brand visibility and increase conversions.
Our advice:
Build your brand on your ecommerce site, social media platforms, and blogs, and make sure that your business is the best it can be.
Expand your visibility using PPC campaigns and intelligent ads on relevant websites.
Reach out to consumers with social media, get them talking, and spread the word about your ecommerce business.
This is often easier said than done, of course, which is why advice from internet marketing specialists can be a real help in developing and enacting a comprehensive website marketing strategy.
By:
Dana Nevins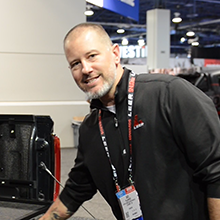 BEDSLIDE - Client Testimonial
"The best thing out of everything was that our sales went up. The new site had a better design, the checkout process was better, and ultimately achieved all of our goals. That site has been up for a year and a half and we're very happy with it, it's still awesome." - Jake Plappert