Web Shop Manager - 5 Blogging For eCommerce Questions To Ask
Blogging for eCommerce provides an incredibly effective, online extension of your brand. Blogs can also increase online sales, aid in customer service,grow brand recognition, and develop meaningful relationships if handled well. There are no stamps to buy, no cold calls to make, and you will be connecting with people that are ready and willing to listen to what you have to say in a casual, interactive atmosphere. Now that you are curious about blogs and whether one might be a good fit for your company, take a few minutes to contemplate the following questions.
Who should blog? The candidate (blogger) does not need to be an established writer, but should be someone who is knowledgeable and able to convey your brand's message in a relatable voice. Appoint one point person to make sure that the editorial calendar is adhered to, although several people could share in creating the content. Choose individuals that can provide at least two (2) hours every two (2) weeks to write a thoughtful, well researched article. There is another option, which is to hire a 'ghost blogger' (a copywriter to post on your company's behalf) to help fill the gap. It is most desirable if the ghost blogger has a knowledge base of the industry or topic at hand.
What should I blog about? Take advantage of an interested audience by focusing on industry events, offering opinions, and sharing research on emerging technologies. In order to relay trends and news worthy information, read industry publications, subscribe to RSS feeds for inspiration, then relay the researched information in an informative, interesting way. Provide content that will help the audience perform their job functions, and this will keep them returning for insight and guidance, furthering your company's image as a trusted and reliable source.
When do I have to post content to my eCommerce blog? Quality over quantity is the most important thing to keep in the back of your mind for your eCommerce blog. In the beginning, frequency is more important to establish relationships and momentum. I recommend developing an editorial calendar to avoid lack luster posts and maintain consistency so that posts will build on one another.
Where do I promote my eCommerce blog posts? There are three (3) areas I suggest looking at to promote your eCommerce blog, depending on how much time is available. Do not get overwhelmed by the sheer number of sites! Not all will be a good fit. Take a few minutes to scope out the community, to see if there are competitors participating (not a bad thing), and to where your potential audience hangs out. The objective is to become active and add value to each network. Then carry your relationships from network to network. What I mean by that is, once you become social on Twitter, for instance, ask your friends if they prefer digg, or StumbleUpon and ask for their user id's so you can link up there too.
Here are the three areas to consider:
Forums - Become active and focus your efforts on one forum until you become established, and form relationships. From that same forum choose a few users with blogs. Visit those blogs regularly, subscribe to their RSS feeds and become active on their sites. Read their posts, write thoughtful comments and hopefully they will return the favor by visiting your eCommerce blog.
Social Bookmarking Sites - Review the Top 20 Social Bookmarking Sites from Ebizma to find the best one for you.
Social Networking Sites - By now you have heard all heard the buzz about Twitter, and Facebook, but there are many options. Here is a great list of the Top Twenty Five Social Networking Sites provided by Social Media Optimization to peruse.
Why should I blog? Three quick and simple reasons as to why you should blog:
Blogs are an affordable platform to share your opinions, industry news, and establish your expertise on a particular subject or field.
Blogs also foster meaningful, long term relationships by engaging community interaction. Dialogue will begin to emerge from cultivating comments and sharing opinions freely.
Blog posts can serve as a company bulletin board, alerting team members to various topics of interest and keeping the group connected.
By now it should seem clear that almost any type of eCommerce site could benefit from a blog, and I hope that you do take advantage of blogging as a tool to reach your target audience. If you are interested in learning how eCommerce Web Development could benefit your company please contact Web Shop Manager today.
By:
Dana Nevins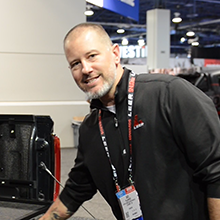 BEDSLIDE - Client Testimonial
"The best thing out of everything was that our sales went up. The new site had a better design, the checkout process was better, and ultimately achieved all of our goals. That site has been up for a year and a half and we're very happy with it, it's still awesome." - Jake Plappert