Automotive Classifieds Grow Your Customer Base | Web Shop Manager
A few weeks ago we wrote about our automotive classifieds service Readers Rides and the benefits it could give your site. This week we will focus on using automotive classifieds to build your customer base and grow your organic search traffic! One of the many benefits of using automotive classifieds includes having unique, user generated content published to your site. Google values fresh content being published to a site because Google's main goal is to help users find exactly what they need. The used car classifieds by owner market is huge and has been controlled by magazine and publications for quite some time. With the expansion of the internet, the ability to sell your car online was quickly taken advantage of to avoid publication fees and ad space purchases. You now also no longer need to leave your car parked out by the road on a dirt lot with a "For Sale" sign plastered in the window.
For sale by owner sites such as Craigslist are widely taken advantage of, but there is an inherent risk factor in dealing with people on Craigslist and many deals often go sour or someone is scammed. Using automotive classifieds such as Readers Rides is a safer option as membership is required, and those who are involved with it have usually already purchased from the site that is hosting it, increasing consumer confidence and safety. If you post your vehicle for sale on Craigslist, you are allowing just about anyone to contact you, and your personal information is accessible by anyone. When using a service like Readers Rides you protect your private information by having an account, and you decide what people can see and how they contact you.
By giving your users an automotive safe haven to post their cars and build a community you will grow organic traffic and sales without having to do much of anything. Having unique content on your site is one of the best ways for your site to rank well on Google. By having a discussion area on your site that is exclusively about automobiles makes your site a reference point for people who are in the market for new auto parts or accessories. With more people landing on your site and being enticed to sign up for your automotive classifieds service you are building a solid customer and lead base that you can target with promotional offers and emails. Check out our dedicated page for Readers Rides and see what you are missing out on today!
By:
Dana Nevins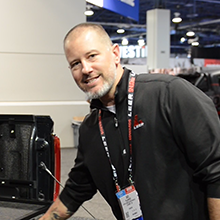 BEDSLIDE - Client Testimonial
"The best thing out of everything was that our sales went up. The new site had a better design, the checkout process was better, and ultimately achieved all of our goals. That site has been up for a year and a half and we're very happy with it, it's still awesome." - Jake Plappert