Web Shop Manager - Responsive eCommerce Website Design
Studies indicate that more and more people will be accessing the web through their smart phones and tablets than through their desktops or laptops. Given this trend, businesses now have to make an important decision to remain competitive: create a separate mobile website or develop a responsive design?
If you're unfamiliar with the term, responsive website design (RWD) refers to how a site adapts to the width of a device's screen. That means that a single site can be viewed on all devices, though the experience will be modified to the user's device whether it's an iPhone, an Android, a tablet, a netbook, or a desktop computer screen.
Our team at Web Shop Manager believes that adopting a responsive web design for eCommerce is the best way to go, which is why we now offer RWD among our innovative offering of website features and services. Below are just 10 reasons why a responsive web design is a great idea:
1. Google Recommends Responsive Web Design
As Google goes, so do most other search engines. Google currently controls 67% of the search engine market, and they believe that a responsive design is the ideal configuration for mobile device browsing.
Having a single website for a business rather than separate mobile and non-mobile websites makes sense for Google. A single URL for web pages allows Google to efficiently crawl, index, and organize web content for search results.
2. Sales of Mobile Devices are Rising; PC Sales are Declining
The reason that more people are accessing the web through mobile devices has a lot to do with current sales trends. It's estimated that more than 100 million tablets will be sold this year. Similarly, more people are using smart phones today than ever before. At the same time, PC sales were projected to be lower than they were in the previous year.
This trend is likely to continue, and it's important that businesses pay attention to the new way their consumers are accessing the web.
3. Greater User Experience Across Different Devices
Even though more people are going to be accessing the web via mobile devices, that doesn't mean they'll ditch their desktop or laptop entirely. One great thing about responsive web design is that it helps ensure a relatively uniform experience for users across different devices. The look and feel will be unified across the board, allowing users to access the same features and find the same content intuitively.
In short: if someone can navigate your responsive design site on a desktop, they'll have no problem navigating it on a mobile device (and vice versa).
4. Users Won't Accidentally Visit the Wrong Version of Your Site
When you have a mobile design and non-mobile design of your site, search engines will often index both in their search results. While this doesn't sound bad, it can actually hamper user experience. A web search on a mobile device may direct that user to the non-mobile version of the site, which could be cumbersome to browse on a smart phone or tablet. Similarly, a person may find the mobile site while doing web searches on their desktop or laptop, which leads to a similarly frustrating experience.
As mentioned above, having a responsive web design means not having to worry about the problem of user experience across different devices.
5. Easier to Share Content Between Multiple Users Over Multiple Devices
Another factor related to the last two points has to do with the new realities of web today. Sharing links and posting links on social media platforms is the norm. With mobile and non-mobile sites, there can be issues with usability. For example, if a person on a mobile device shares a mobile website link with a friend on her desktop, the friend on the desktop won't have an optimal experience accessing that web page.
Having a responsive web design means that your site is easy to share between users across all devices. There's just one URL that gets posted to Twitter, Facebook, and Google+, and the site will adapt to the device people are using. This is also important to consider when doing your own outreach, communication, and promotion via social media.
6. A RDW Site is Easier to Manage Than Multiple Websites
When you have a mobile site and a non-mobile site, you're sometimes working double-time with updates and upkeep. You may even have to work double-time with your SEO strategy.
With a responsive design site, you only need to worry about one site and one SEO campaign. This allows you to concentrate on creating quality content for your consumers.
7. Better for SEO Backlinking on Mobile Searches
Related to SEO, having a responsive design has a lot of benefits when it comes to backlinks. Backlinks refer to outside websites that link back to your site. These are an important part of an SEO strategy and improve your search rankings. When you launch a mobile version of your site, the mobile version of the site will not have the backlinking strength of the non-mobile site since the two URLs are different.
With responsive design sites, you retain the backlink strength of your site across devices, which can help you get found easier on mobile searches. This means better search rankings and greater chance of getting found on Google, Bing, Yahoo, and so on.
8. Potential to Increase Traffic and Conversions
With more and more people searching and browsing the web on smart phones and tablets, responsive design has the potential to improve your overall traffic and conversions. eCommerce websites across the board have shown substantial increases in conversions, transactions, and revenues since adopting responsive designs.
The ease of use on mobile devices as well as desktops and laptops means people are able to browse and buy with ease no matter how they access your business.
9. Responsive Design Can Enhance the Overall Design of Your Website
Implementing responsive design may mean that you have to rethink your whole website layout. That could be a good thing. By thinking of how to structure your site so that content and imagery can be easily adapted to various devices, the design gets simplified and enhanced at the same time.
With responsive design, unnecessary clutter gets reduced and usability takes center stage. You may actually improve your website design simply by thinking across platforms.
10. The Perks of Being an Early Adopter
Given all of the above, we can't stress enough how important it is to be an early adopter to new trends. Not only will this give your eCommerce business a leg up on your competition, but it helps distinguish your site as being on the forefront of the web. Combine this with a strong social media strategy and you are unlocking greater potential for your business to succeed given the habits of today's consumers.
These signs of web savviness shouldn't be taken for granted. This will be the future of browsing for years to come, and it pays to be a part of it.
Contact our Web Shop Manager team to learn more about future proofing your eCommerce website with responsive design.
By:
Dana Nevins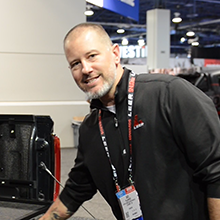 BEDSLIDE - Client Testimonial
"The best thing out of everything was that our sales went up. The new site had a better design, the checkout process was better, and ultimately achieved all of our goals. That site has been up for a year and a half and we're very happy with it, it's still awesome." - Jake Plappert