Web Shop Manager - Developing An eCommerce Site
If you are looking to start developing an eCommerce site and are unsure how or where to get started...you've found your starting point. Web Shop Manager has everything you need. Whether you are looking to develop an informational site or sell Hundreds, Thousands, or Millions of products online, WDS is your new best friend.
Developing an eCommerce site has many factors to consider from deciding what your pages will look like to thanking your customer for their purchase. One of the greatest benefits to working with WDS is Web Shop Manager (WSMTM), an unbelievably easy tool you will use to manage your site, list hundreds of products, organize thousands of items, import millions of parts, and communicate with your customers.
First you must have the features all eCommerce sites require which are menus for organizing your products. Of course WSMTM has a feature for that, Categories. The employees at Web Design Solutions know how important it is for the consumer to easily 'shop' your site, no matter what industry. Consumers demand quick and easy ways to find the products they need. WSMTM's categories will dynamically build your menus and list the assigned products. Change the category name or easily hide them if you sell seasonal products. So easy! So fast!
Do you have products that come in different size, color, or fragrance and you want your customers to customize the product to fit their need. Then WSMTM has a feature for that, Product Options. Assigning Product Options to your product allows your customers to add customization during the shopping process. These Product Options give your customer the power to buy the right product for them. Create Product Options with the greatest of ease using WSMTM.
Have you ever wanted to find a part for your car? With Automotive Aftermarket shopping sites there are thousands of products to sort through. Customers want to find the part they need quickly and easily. WSMTM has a feature for that, Brands & Attributes. This feature allows you to easily organize your Automotive Aftermarket parts based on the year, make, and model. Then WSMTM will display a straight forward search tool for the customer to narrow the products listed base on Year, Make, and/or Model they select. Consider your products SOLD when customers use this tool!
Selling products from several manufactures is exciting and offers your customers several options. However, you may find that customers will want to shop by Brand. You can use WSMTM's Brands & Attributes eCommerce features for this function as well. Easily create your brand, add a logo for brand recognition, specify the order you want them listed, and dynamically display them on all your site pages. Once you've specified which products belong with which brand your customers can click on the brand they love and browse all of their products.
Do you have Millions of products? Do you think if will take forever to get them on your new site? Are you worried that you do not have the proper staffing to do all the data input? No worries,Product Data Importing is easy with our platform than any other one out there with custom profiles and scheduling you can keep your website data up to date with minimal effort.
For those of you that are in the automotive industry we understand the importance of managing your orders rather than managing products which is why we created a turn key solution with DCI / CatalogRack live integration. Web Shop Manager also comes with import tools for Network Solutions Monster Commerce, Yahoo! Stores, Volusion, osCommerce, Magento, Miva Merchant, Zen Cart, and more....
Any questions or concerns...do not worry WSMTM has you covered, contact WSMTM today about your eCommerce needs.
By: Dana Nevins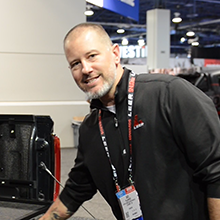 BEDSLIDE - Client Testimonial
"The best thing out of everything was that our sales went up. The new site had a better design, the checkout process was better, and ultimately achieved all of our goals. That site has been up for a year and a half and we're very happy with it, it's still awesome." - Jake Plappert