Get A New Website From The eCommerce Web Design Pros!
The holidays are over and now existing and aspiring eCommerce business owners are thinking 'what can I do to different in 2012?' A new website can be just what is needed to take advantage of the booming eCommerce web sales. The US census bureau reported that in the 3rd quarter alone, e Commerce sales hit $48.2 billion dollars! A new web site design or a brand new website could be just what you need to get your part of the pie. With the economy on an upward trend and eCommerce showing greater growth than retail sales, new websites have an amazing chance of being profitable in 2012. What type of new website are you looking to launch this year?
What Type Of Site Would You Like?
As you can see no matter what business you are in a new web design can help promote sales and make you more successful in 2012! But how hard is it to get a new website up and running? So easy! Most of our new websites are built and live on the internet in only 60 days. After the new site is up and running you are in complete control of your site. If you can write a word document and attach it to an email, you have all the skills you need to control and maintain your new website. This is so amazing because this means that you do not need to pay anyone to make small edits to your website, add new products, or write a new news article.
While there are a lot of companies out there that can design you a new website, we have found that our customers are so happy with the speed that their new site is done and the amount of customer support that is available to them after their site goes live. See some Web Shop Manager reviews and learn how others felt about their new website design! Want to learn more about getting a new website? Contact us and someone will be in touch with you within hours.
Fill Out This Form To Take The Next Step
By:
Dana Nevins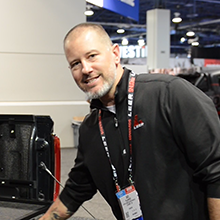 BEDSLIDE - Client Testimonial
"The best thing out of everything was that our sales went up. The new site had a better design, the checkout process was better, and ultimately achieved all of our goals. That site has been up for a year and a half and we're very happy with it, it's still awesome." - Jake Plappert