Automotive Keywords Research Tips and Tricks
If SEO is an art, keyword search are the paint strokes. It is often the choice of keywords which makes the difference between an effective or ineffective SEO strategy. If you settle for choosing generic keywords you will not stand out from the crowd. Select too many specific keywords and you will miss the words that your customers are searching for. Therefore it is important that you trouble shoot potential pitfalls by compiling a list of relevant keywords and create compelling content that attracts targeted traffic to your site.
Although there are different methods for keyword selection, we will concentrate in this article on three methods that are particularly effective. By creating quality content associated with the following keywords, there is no doubt that you will quickly increase your ranking on Google. So let's consider how to establish a good SEO and overall online marketing strategy for the automotive industry.

Tips to Research and target long tail automotive keywords
Long tail keywords are terms or phrases that contain three or more words and have the benefit of being much more accurate than generic queries. This could be for example the difference between "car" and "car auto parts".These keywords are less desirable even though they are more targeted to specific needs. If your goal is to increase the sale of auto parts it is better to search for "car auto parts" instead of searching for "car". Rather than take months or even years, to rank yourself on the first page of Google for specific generic queries, long tail keywords will allow you to:
Get the top positions in the search engine results faster with less competition;

Attract more targeted traffic (because the searches are specific) and therefore increase your click rate;

Diversify your keywords and as a result your traffic;

Position yourself on generic keywords.
Thus, by targeting and optimizing your content around long tail queries, you can target your potential customer base much more effectively,which will improve the performance of your SEO strategy of targetting niche ecommerce business ideas.
Research which automotive keywords you already rank for
Have you already implemented a content strategy for your automotive ecommerce site?
That's great, in which case you are not starting from scratch. There is a good chance that you rank for queries that you have never even targeted before. You only have to recycle your existing content and optimize them for users. Never forget that you are writing for their benefit above all else.
In order to do this using your SEO tools, you must identify organic searches that have led customers to your site and determine:
Keywords that are relevant to your business, but for which you have never created content;

Keywords already targeted but for which you can still bring value through fresh content;

Keywords close to your existing content, but which have yet to target.
You have traffic from this search and you know what they are looking for. Not only will this allow you to get your new content referenced around these keywords more quickly but you will also boost your existing content containing similar keywords in the process.
Target 'trending' automotive keywords
Another way to reference your content quickly on the first pages of Google is to write content based on topical subjects using keywords that happen to be "trending" at the time.Did I mention that Brad Pitt and Angelina Jolie are getting divorced this year?
Have you booked your dates for Sema auto show 2016 in Las Vegas yet?
First of all you will increase your chances of appearing on Google News, that is to say, in the part located above the natural results. You will be at the top of the page. What more can you ask for?
Secondly, you can get the top positions in the natural results more quickly because Google search favors 'trending' subjects and attach great importance to new, original and fresh content. However, we recommend that you bring real added value to your articles by giving your opinion and sharing your personal experience.
So how do you find 'trending' subjects or keywords? It's simple. For example, you can follow trend setters in your industry that refer to the automotive eCommerce industry. You can keep track of trends by using keywords that trend on Google, using such tools as Net vibes that monitor the most popular hash tags on Twitter. Don't forget the goal is to always keep your visitors online shopping vs retail shopping!
In combining the above types of keywords with quality content you will develop an effective SEO strategy and reap significant long term benefits for your business.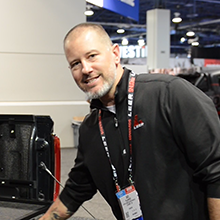 BEDSLIDE - Client Testimonial
"The best thing out of everything was that our sales went up. The new site had a better design, the checkout process was better, and ultimately achieved all of our goals. That site has been up for a year and a half and we're very happy with it, it's still awesome." - Jake Plappert