2017 SEMA Car Show Las Vegas | SEMA Convention October 31st to November 3rd
Web Shop Manager is happy to announce that we will be present this year at the world renowned SEMA Show 2017 that is being held at the Las Vegas Convention Center from October 31st to November 3rd 2017 in Nevada. This follows our recent announcement that we are due to attend the PWA Conference in September in California.
We believe it is very important to be present at all the major industry gatherings in order to meet our clients and friends while staying abreast of all the latest developments and products affecting our industry. Therefore we take this opportunity to invite all our clients and friends to come and visit us at the beginning of November at our booth in the Las Vegas Convention Center during the SEMA Show 2017.
You can schedule a meeting with us in advance.

Be sure to visit Web Shop Manager at the 2017 SEMA Show at Booth 32334
The SEMA Show will be taking place in Las Vegas this year at the beginning of November in the world famous Las Vegas Convention Center. It is one of the largest and most frequented auto trade shows in the world and the largest automotive specialty products show worldwide. If you are serious about working in the automotive parts industry, such as we are at Web Shop Manager, whether online or offline, you cannot afford to not be present at the annual SEMA Show. For four days in November, it will bring together the industry's most forward thinkers who will bring with them all the latest products available on the market, both domestic and international. It is not only a must when it comes to growing your professional network, but also an opportunity to witness product demonstrations and participate in seminars and other industry specific events organized over the duration of the show.
Last year's edition of the SEMA Show attracted over 60,000 buyers not only from the US but from across the world. It is important to note that the show is not open to the public but is restricted to industry professionals which is why Web Shop Manager will be present and looking forward to meeting all our existing clients as well as the chance to forge new relationships with potential clients and all manner of industry players. There are twelve individual sections that include one dedicated to new products, which alone is worth the visit, showcasing over 2,000 parts, components and tools that are new to the market.
The SEMA Show 2017
We look forward to the opportunity to meet you at the SEMA Show this year if you will be attending. We can only recommend that you take some time to plan your visit ahead of time to make the most of the event and what it has to offer. Given the sheer volume of attendees expected this year, some 140,000 industry professionals, it will be important to have a plan of attack. We suggest that you download the SEMA Show mobile app that will help you to navigate the floor and access all information regarding exhibitors, products and seminars so you don't miss a trick. An additional feature to the app this year includes a scanning capability that will allow you to keep track of all the products that catch your attention.
Be sure to register early, before October 14th for domestic visitors, to receive your attendee badge through the post ahead of the show. If you are not familiar with Las Vegas, we would also recommend that you choose your accommodation in relation to the Convention Center and plan transport to and from the show to minimize time and hassle.
Web Shop Manager is proud to be present at the 2017 SEMA Show in November and our team look forward to meeting you there.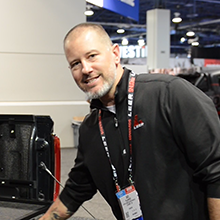 BEDSLIDE - Client Testimonial
"The best thing out of everything was that our sales went up. The new site had a better design, the checkout process was better, and ultimately achieved all of our goals. That site has been up for a year and a half and we're very happy with it, it's still awesome." - Jake Plappert