Shopping Cart Abandonment Rate - Emails to Improve ROI
Over the years, marketers have spent hundreds of thousands of dollars on how to recapture the sales of those that abandoned their cart during checkout.
And they've seen some pretty serious results because of it.
However, now it's time to turn those dollars and our attention to different types of consumers who abandoned the sale.
Beyond learning more about the individuals who leave the sale, we want to know when they leave so we can entice them to come back using the best methods.
Here we're going to look at the different abandonment emails that work to recapture the sale. Your goal is to decide which segment your customers fall into when it comes to not following through with a purchase. If you don't do this, your advantage of online shopping vs physical store shopping diminishes.
Remember – these emails are not designed to send in a blast to every person on your list, but to hone in on a very specific customer base.
Shopping Cart Design Can Reduce Abandonment Rate
If you have customers that spend about five minutes researching a particular category on your site, it can be beneficial to reach out to them.
Because you know the product attributes and category the customer was browsing in, you can grab their attention with large product images, links back to your website, and a thank you note for visiting.
You can even include a small incentive here if you want.
The open rate for these emails is around 40% depending on the time of day you send them and the subject line you choose. And the conversion rate can be as high as 25% when executing the best practices with attention to detail.
Here's an example from Amazon of a customer doing a gardening category search that lasted five minutes: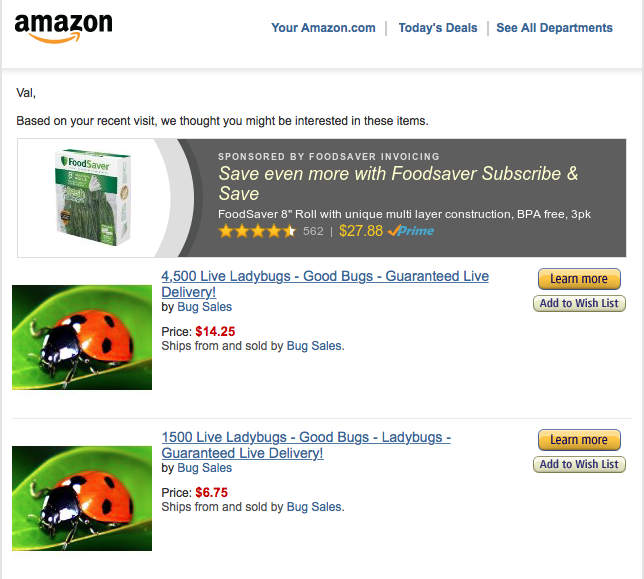 Using shopping cart abandonment emails
Consumers love loading their carts up with their wish list items because it still gives them a little wiggle room to change their mind and adjust their products.
However, people can also let those carts grow stale and forget what they even have in there.
As a savvy email marketer for a top performing ecommerce website, your job is to get them to move forward with the purchase and not sit on their hands quite as long.
Choose a time frame such as two to three days that the item has been in the cart before you send the first email.
You can be cute in this email and say something like, "your shopping cart is sad you went away," and have a kitten face under the words.
Here's an example from doggy loot: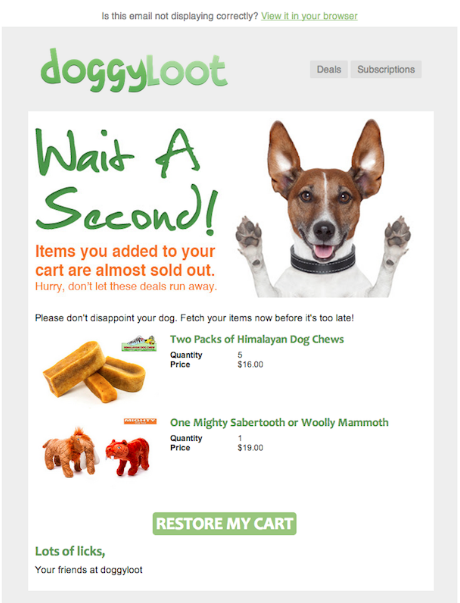 You can see that they stay light-hearted while still creating a sense of urgency to buy those items that are already in their cart. They have a solid call-to-action, and they use images of the products to bring the shopper back to what they were interested in.
The open rate on these can be anywhere between 30-40%, so make sure your subject grabs the readers attention, and e-commerce companies have seen conversion rates as high as 40%.
Reduce Cart Abandonment Rate at Checkout: Emails to Save the Day
The third and most common type of online shopping abandonment are going to be people who leave during the checkout.
This one will be different from the first two that we've discussed because they were more committed to the sale when they suddenly dropped out. They weren't just browsing or adding items to a wish list – they actually had their wallet out.
Here are the primary reasons people abandoned a cart at checkout:
They didn't trust the security of the site because there were no visible security badges or they were redirected to a third party site.

Unexpected fees were tacked on at the end of the sale such as taxes, and shipping and handling charges.

They got distracted because they were shopping online at work, waiting at the dentist's office, or someone rang the doorbell. There are a million reasons people drop what they're doing.

They were on their smartphone but decided it was easier to enter payment information on their desktop at home.

The e-commerce store was asking for way too much information and required you to sign up to be a member of their site.
While there are other reasons people leave a sale during checkout, these will be the ones to keep a close eye on when it comes to your web design.
Now let's get into the recapturing the sale through an email.
When you send a friendly reminder that someone hasn't completed the checkout process, provide a link to go right back to where they left off.
Have clear images of the products, and you can even add a few extra attributes that boost the value of the items for the person. For example, if they were about to buy a juicer, you can give them a list of health benefits and a free recipe.
You can also offer an incentive in this email such as free shipping if you think that was the cause of the abandoned checkout.
You can boost your conversion rate up to 25% if you take action and put these emails into motion.
And that wraps up the email marketing series! Continue to test your efforts and never stop thinking outside the box!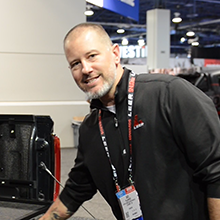 BEDSLIDE - Client Testimonial
"The best thing out of everything was that our sales went up. The new site had a better design, the checkout process was better, and ultimately achieved all of our goals. That site has been up for a year and a half and we're very happy with it, it's still awesome." - Jake Plappert