Engaged Customer Emails : Strategic Ecommerce Email Marketing Funnel Stage 2:
Often acquiring new customers can be harder than simply retaining customers you already have. In fact, it costs much more to sell something to a potential customer than it does to an existing one.
So, why do so many businesses forget about selling to existing customers once the first purchase has been made?
Here we're going to break down how to keep customers engaged once they've made a few purchases, so they continue to come back time and again.
The goal isn't to get one sale – it's to gain loyal shoppers that see your brand as a reliable and valuable place to spend their money.
Keeping people engaged isn't always easy, but we've simplified the process so that you know exactly the steps to take.
Let's get started.
Transactional Emails
One of the best features of a transactional email is that the customer wants to engage with it. After all, they've already made the purchase so they are excited to get e-commerce product data about when it will arrive and the finalized transaction.
The open rate is about 50% higher than a traditional e-commerce promotional email that doesn't have shipping and transaction information in it.
You know what that means – you have a chance to make or encourage more sales.
Here are a few tips to amp up your transactional emails:
Offer more purchasing options that make sense to the buyer. Cross-selling is a proven marketing tactic that you shouldn't ignore. Amazon and many other big e-commerce stores take full advantage.

Upsell your product by showcasing a more advanced or newer model.

Remind people of the advantages of why doing business with you is convenient and enjoyable. For example, if you offer free returns and free shipping on purchases over $50, then give the purchaser that friendly reminder.
You can also get creative when it comes to transactional emails by personalizing them. You could even add a customer feedback box at the bottom to find out how their experience was.
Cart Abandonment
If you own an e-commerce store, then you're all too familiar with the troubles of cart abandonment.
People leave their online carts for all sorts of reasons. From feelings that the checkout isn't secure (or the public WIFI they're using isn't), the cost was more than they thought once shipping was added, they were distracted by pop-ups, or their kids came trekking mud through the house.
Seriously – the reasons are endless for leaving a cart. However, don't just let those e auto parts sales go to the wayside.
Here are few tips to recapture those sales through email:
Use a unique abandoned cart template that stands out from the crowd, not one that looks like it came out of a box. Here's a good example from Levis, who also offer a time-limited discount: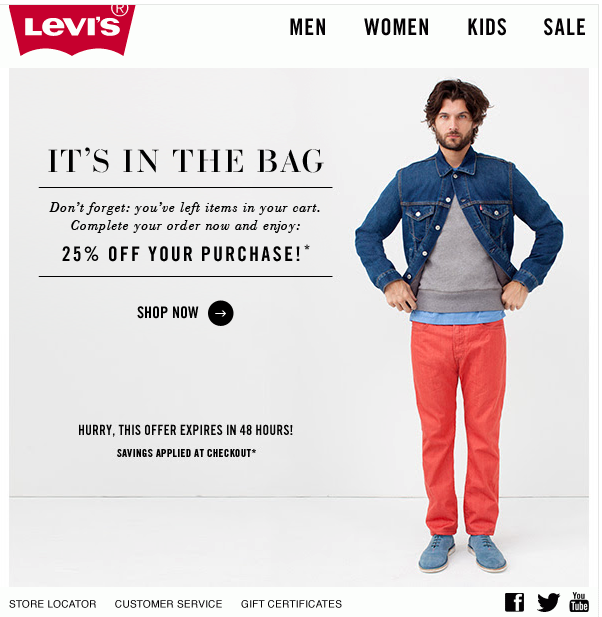 Send an email reminding them their item is still there, and provide a picture.

Once you've sent an email reminding them they were about to purchase an item, the next step will be to address the common concerns that may have stopped them. An example is some customers will think there are shipping fees, and you can kindly remind them that shipping is free with your company just like from the local auto part store.

By the third email, it's time to up your game and give them a coupon in case the price is the primary reason for the abandoned cart.
You can send a fourth (and more determined) email if you would like beyond this point. However, be careful because this can irritate people to the point where they don't come back at all.
You could also offer another bonus that they can use for their next purchase should they choose to visit at a later date.
Customer Email Campaigns
In the previous article in the series, we gave you the steps for guiding potential customers towards the initial sale(s).
Now that you have a repeat customer (congrats!), you should have an email campaign that is designed something like this once a purchase is complete and the transaction email has been sent:
Email #1: Now it's time to thank the customer for making the purchase via a personalized email.
Email #2: A few days after you expect the product to have arrived, send another email requesting a product review. This allows you to stay in front of the customer and show them that you value their feedback.
Here's an example from Overstock: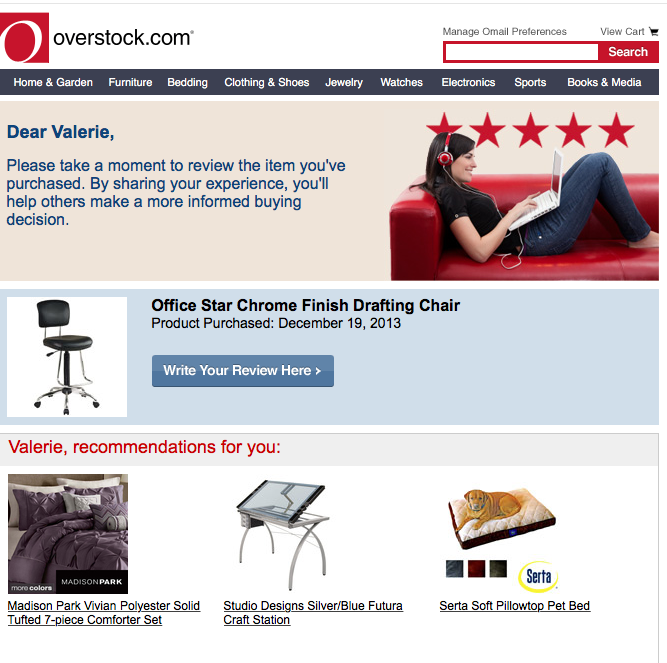 Email #3: A few days after the request for a product review, it's time to send another promotional email that is for a limited time.
Email #4: Finally, 24 hours before the limited time offer expires, send a reminder if the customer hasn't purchased.
Triggered versus manual emails
Now, let's look at triggered and manual emails that help engage current customers.
Triggered and manual email campaigns both have their place and can be of value. It's important for you to know which one to use, so here's a little rundown.
When to use triggered (or 'automated') campaigns:
Birthdays, holidays, and anniversaries such as the day they subscribed to your newsletter.

When creating specials for loyal and repeat customers.

When customizing buying history. For example, if someone buys a shelf and a rug, you can make the assessment that they may be redecorating, and they may want to check out the lamps or curtains next.
Here's a birthday email from Sephora that gives you a free gift with your purchase: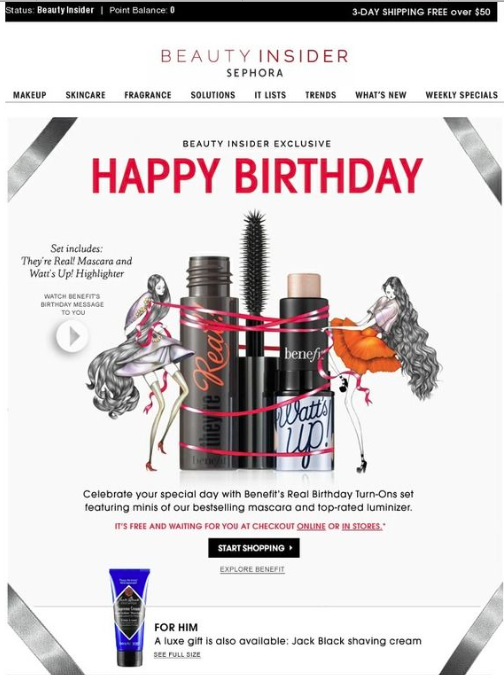 When to use manual campaigns:
When you want to reach out to the entire list.

To get brand information and announcements out there.For example, when you've changed a setting, introduced a store wide offer, a new product range or are having an update or event for customers to look forward to like the diesel domination at the East Coast Diesel Nationals this weekend!

When you want to have segmented offers. You can do this for specific categories, demographics of the buyer, or new purchasers.
Now that you have a more defined place to start engaging and retaining customers, you can create a more refined email marketing plan that includes these tactics.
Remember to re-engage customers who have drifted...
Stay tuned for the next blog, when we look at the final stagein the e-commerce email marketing funnel: bringing back customers who have stopped engaging with you.
This is a crucial and often over-looked place to recover lost revenue, so make sure not to miss it.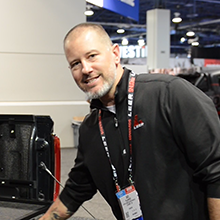 BEDSLIDE - Client Testimonial
"The best thing out of everything was that our sales went up. The new site had a better design, the checkout process was better, and ultimately achieved all of our goals. That site has been up for a year and a half and we're very happy with it, it's still awesome." - Jake Plappert