Strategic Ecommerce Email Marketing : Interested Customer Emails
We touched on the email marketing funnel stage one in the previous article. Now it's time to roll up our sleeves again and get to work.
(If you missed it, click to go back and get an overview of the three essential stages of ecommerce email.)
The first funnel stage is when customers have signed up to be part of your email list, but they haven't bought anything yet. Your goal is to create an online atmosphere that nudges them to make that first purchase.
It's critical that you handle this stage carefully because you have a tremendous opportunity to not only get them to make the first purchase, but it will set the precedence of your brand so they'll keep coming back.
Here we'll give you the details about how to start off on the right foot when someone signs up for your emails.
The Welcome Email
If you don't send a welcome email already, what the heck are you waiting for?
Most people not only expect it, but they make the decision whether they want to do business with your brand after they've received it.
So, if you want more engagement and don't want to disappoint subscribers before your first promotional email – welcome them in with open arms.
Here's how to begin:
Make sure your subject line lets them know they are opening a welcome email and not a sales ad.
Keep them engaged with content that introduces your e-commerce brand's site and why it's unique from the competition.

Give them a rundown of what to expect from being part of your list such when you send emails and if they can expect coupons, videos, tutorials, etc.

Provide them something such as free shipping, a discount, or some other alluring offer that's tough to turn down.

Add your social media icons at the bottom of the email so they can follow you on other platforms for more incentives.
Here's an example of a fantastic welcome email from NFL store: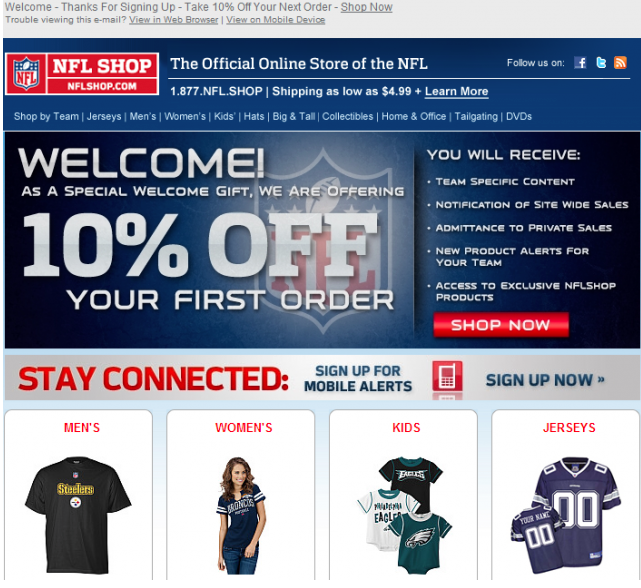 As you can see, they let you know what to expect and give an incentive.
Here's another example of a welcome email from Overstock that gives you an incentive and let's you explore their benefits and options: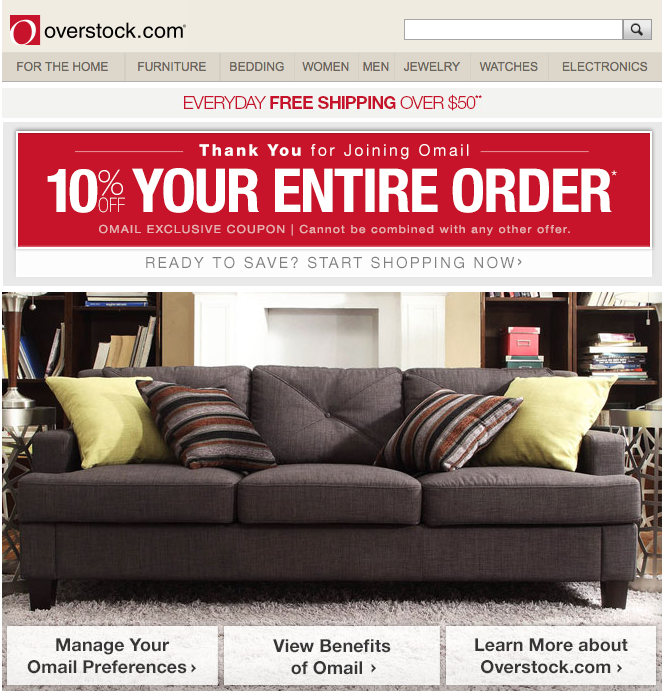 Lead Nurture Emails
You would be surprised how many companies dive right into promotional emails as the first step in their marketing campaign and skip the welcome and lead nurture emails.
This is bad for them, but will work in your favor!
When it comes to nurture emails, you may find that you can get away with soft selling something, but the goal isn't sales here. It's connecting with the customers on an entirely different level within your niche.
You want to show them that you care more about the sale, you care about them and the real problems they may be having (and if you think about it, you probably already do).
Here are a few tips for creating nurture emails:
Educate your audience by using topics that will naturally pitch your products. For example, if you are selling camping gear, you could write an article about safety tips when hiking.

Engaging your audience with entertainment while still staying true to your brand. If you sell pet supplies, then you can share funny cat videos, or when selling professional photography equipment, you can feature the most stunning images of the week.

Tell stories about your brand or those that have taken advantage of your services in the past.

Include your social media icons in the post so that people can follow, like, and share your brand.
Keep your audience and their issues in mind, and don't forget that while you can soft sell a product, you don't have to in order to get results.
Here's an example from Pet Supplies Plus. They bring people into their content by addressing the obstacles that come with pet ownership, and then create a contest around it.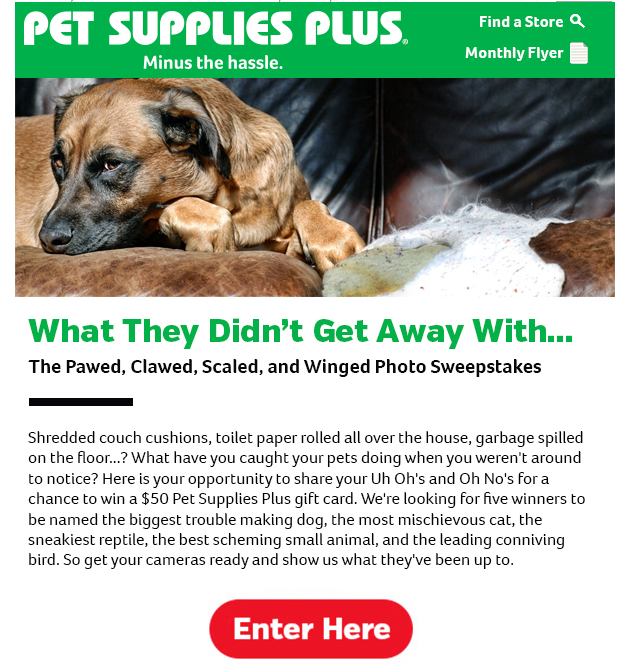 Promotional Emails
Now it's time to get to the promotional emails (which we are all probably the most familiar with from a customer's standpoint).
By this point, you should have welcomed the subscriber to your family and provided them with some nurturing content.
And now it's (finally) time to start selling that first product.
Utilize both automated and manual emails when promoting specific products to your subscribers.

You can segment the customers that have already clicked on items and shown an interest in a particular category within your niche.

Create an offer such as a free gift or a coupon code and make sure it is a limited offer so that your customer feels that overwhelming sense of urgency.

Hit the send button!
Remember! You don't want to redirect your customers to social media and other external websites at this point. You want to keep them moving along the funnel, towards the sale.The goal is the sales floor, aka your website. There is a slight exception to this, in the case of attending an event. For example the team at Web Shop Manager will be exhibiting at the 2016 diesel dominance event at the East Coast Diesel Nationals in Pa. WSM mailed and called a number of our clients, both current and prospective, prior to this event.
To sum it up
Now that you know how to greet new subscribers to your list effectively, you should see an email marketing campaign that goes something like this:
Email #1: Send the welcome email and ask people to please open and read.
Email #2: Send a nurturing email introducing your brand's story.
Email #3: Send an email educating or entertaining your customer.
Email #4: [Optional] Send another email educating or entertaining your customer.
Email #5: Send a discount code or limited time alluring offer.
Email #6: Send a reminder email (if they haven't purchased yet) that time is running out.
Good luck and stay tuned next week when we go into detail on how to to keep current customers who are already making purchases engaged and coming back to buy more.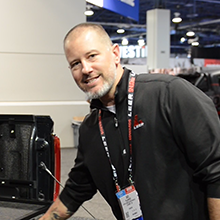 BEDSLIDE - Client Testimonial
"The best thing out of everything was that our sales went up. The new site had a better design, the checkout process was better, and ultimately achieved all of our goals. That site has been up for a year and a half and we're very happy with it, it's still awesome." - Jake Plappert