The 3 Stages of an Ecommerce Email Marketing Funnel: Your Strategic Road Map
When you approach your email marketing campaign with actionable steps that serve the purpose of building a relationship with your ideal customer, you'll be able to identify their needs better.
Because your promotions will be fully thought out and conversion driven, you'll not only sell more, but you'll gain those loyal customers that keep coming back.
Plus, when utilizing the 3 stages of the e-commerce email marketing funnel, you can segment your customers to generate more leads and sales.
Here we've outlined the road map for the 3 stages: interested, engaged, and lapsed.
Interested – Stage 1
The first stage is when you capture an email from someone who hasn't bought anything from your online store yet, and your mission is to introduce them to your brand, as well as guide them towards making their first purchase.
In the interested stage, there are specific email styles that you'll need to send out, and it will need to be done in a strategic order.
The first is the welcome email, the second is the nurture email, and the third is the promotional email.
Now many businesses skip straight to the promotional emails, but we recommend that you don't do this.
Begin with the welcome email because it has a much higher open rate than promotional emails – especially when you use the best practices for writing the headline (coming up in the next part of the series!).
It's okay to ask people to open this email in the headline and let them know that you're simply welcoming them to the family. And why wouldn't you? You should be greeting your customers with enthusiasm and getting them excited about what your brand can bring them!
The next set of emails you'll design will be nurture emails, and these are not intended to sell but expand on the reasons why your brand is the best choice to do business with.
When it comes to nurture emails, you can soft sell products, but ultimately, you want to entertain, inspire, and educate the consumer and let them know that you sympathize with them and see them as more than just a dollar sign at your best car part website.
Once you've laid the groundwork with the welcome and nurture emails, you've got a solid foundation to sell hard, utilizing the best promotional practices.
Here's an example of a promotional email from World Market. You can see at the top, they show a members incentive with a date that creates a sense of urgency, as well as some pretty hot deals for the season.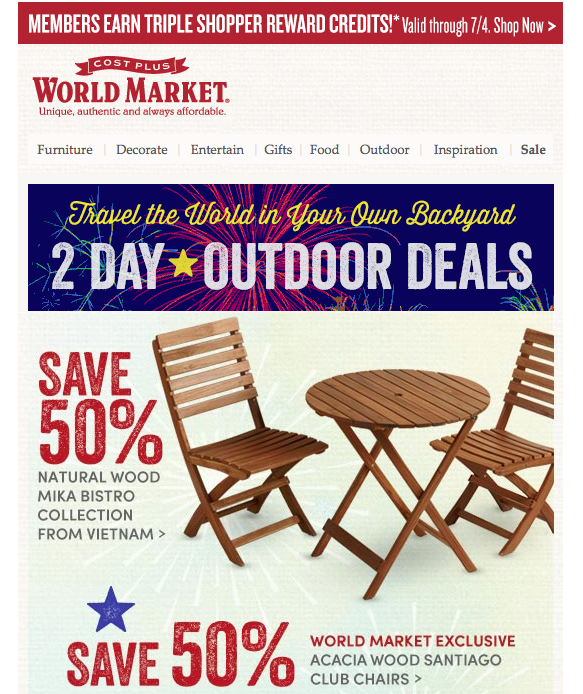 Engaged – Stage 2
Now it's time to turn our attention to those who have already made a purchase.
The engaged stage is all about keeping people who have bought from your e-commerce website store hooked on your brand so that they continue to make purchases time and again.
You'll have a lot of opportunities to make the most of your customer's experience here, and while we'll go into more detail further into the series when it comes to getting people to commit and convert to your brand utilizing stage two, let's touch on some aspects that will be essential.
The first is transactional emails because the open rate is exceptionally higher and gives you a unique angle to upsell and increase your brand awareness.
The second is a unique abandoned cart email that is designed to recapture a sale.
And just like the interested stage, you won't just want to blast emails out to all of your subscribers because it's what you think you're supposed to do. You'll have a to design email marketing campaigns that make sense to individual consumers.
Some emails will be segmented to target a specific group, while others will be created with the intent to send to everyone on the list.
You'll need to make the decision about whether to use triggered or manual campaigns based on what your goals are.
For example, when you want to send out birthday wishes to the customer, you'll utilize a triggered email campaign. But when you want to let people know about a change in services or passwords, then you'll use a manual email campaign.
Lapsed – Stage 3
During the lapsed stage, your mission (should you choose to accept it – and we recommend that you do!) is to employ email tactics that will get those customers who stopped purchasing, clicking on links, and even opening emails to re-engage with your brand and start making purchases again.
You can begin by segmenting the customers who haven't engaged with your brand in two or three months. It's your call on the amount of time you wait before reaching out to customers who haven't been active with your e-commerce store, but two months will let you know they're slipping away.
Within the emails, you can simply ask why they haven't been back, utilizing surveys and other forms of questionnaires. You'll find that the reasons will vary. In some cases, they only shop online over the holidays, or they go to your niche e-commerce store for one particular product they can't find at a brick and mortar health and wellness store.
Here's how Photobucket does it: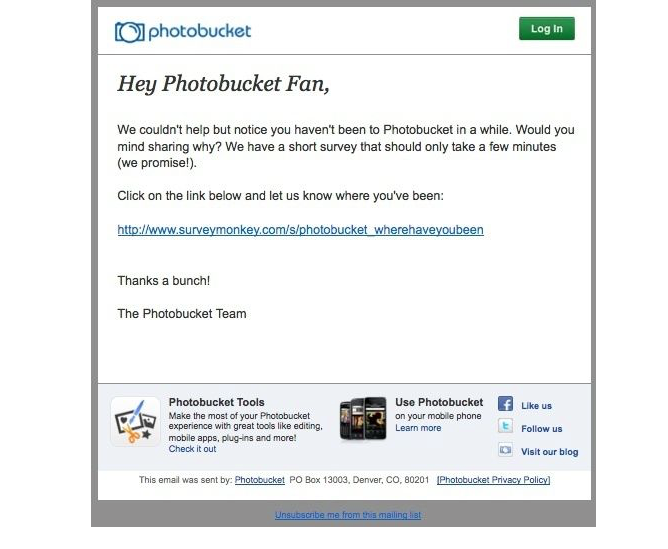 Next, you'll offer bigger and better incentives and promotions than you have in the past.
By letting people know that you've noticed their absence with these reengagement emails, you'll find that some will come back to take advantage of those big offers.
And finally, if you get no engagement what-so-ever, it might be time to cut the cord (after you've reminded them again about that fantastic offer you provided them), and then unsubscribe them.
You never know when someone has switched or deleted email accounts, and you're just sending messages (along with time and money) into the void.
However, be sure you include a way back onto your subscriber list in the last email and always be light-hearted with the content, so the customer knows there are no hard feelings.
In-depth guides on all three stages coming up next!
Now that you have an overview of the three stages of the e-commerce email marketing funnel, we'll look at each stage in detail in the next three articles of the series.
If you're serious about making money from your Ecommerce emails, then stay tuned!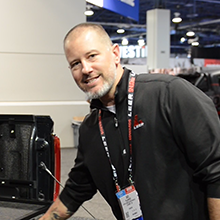 BEDSLIDE - Client Testimonial
"The best thing out of everything was that our sales went up. The new site had a better design, the checkout process was better, and ultimately achieved all of our goals. That site has been up for a year and a half and we're very happy with it, it's still awesome." - Jake Plappert