Step-by-Step Guide to Writing the Perfect Email to Maximize E-commerce Email Marketing ROI
If you've heard that email marketing is dead – think again. The first article in the series showed you just how effective an email marketing campaign is for your ROI.
In fact, it's more effective than social media, direct mail, print advertising, and when paired with SEO efforts and mobile marketing, you'll find that you have a serious selling machine on your hands – that is as long as you maximize your e-commerce email marketing endeavors.
We'll start with the best copywriting practices for writing powerful emails that get results.
Let's start with your email address
Before you craft your first email, take a look at your address and how it appears to your customers.
First, if you're an e-commerce store, you'll want the email to show your brand versus your name. People may not know that "John Smith" is part of Amazon, and this can result in an unopened email.
Also, if your email address isn't professional, it's time to get one that is.
For example, Walmart isn't going to have a free Gmail account, but one that will use their name within the address. They use walmartnewsletter@walmart.com.
This gives people a higher sense to trust that they are going to a secure and legit place of business.
Anyone can create a Gmail account that eludes they're a bigger brand, but if you use @yourbrandname.com, you'll be taken more seriously.
Just make sure that people can reply to your email as easily as they could a free account.
The subject line is the most critical part of the email
Now that you have a professional email address that represents your e-commerce brand, it's time to focus on the subject line.
We can't stress enough that this is the most critical part of getting your email opened.
People will spend less than five seconds reading the subject line, and you'll either grab their attention – or you won't.
If you've ever studied copywriting, you'll find that one of the best practices when writing headlines is focusing on the four U's:
Uniqueness

Ultra-specific

Urgency

Usefulness
Your headline (at the very least) needs to have one of the four U's. You don't have to get them all in because it's actually pretty tough but aim for one or two.
Here's an example from Pottery Barn. You can see the subject line is ultra-specific and useful: Free Shipping + an EXTRA 20% off Bedding & More.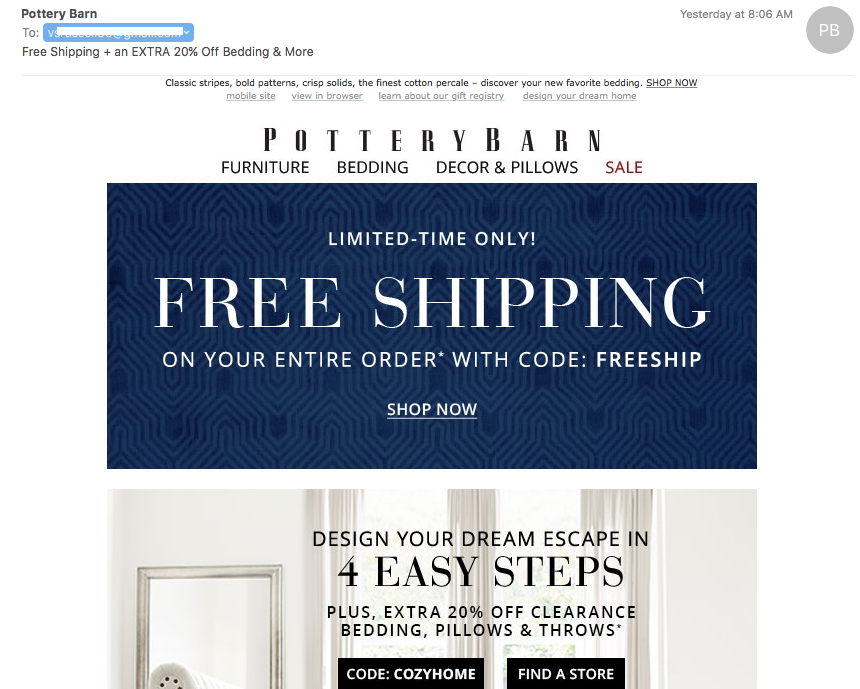 Once you open the email, notice that they've added the sense of urgency by letting people know that this is a limited-time offer.
Choosing words wisely
So, you've got a great subject line, and people are opening your emails. Fantastic! That's exactly what we're trying to do here.
But you're not done yet – now it's time to engage your customers and make the sale.
The words you use in the body of the email are going to have an impact on customer reaction, and you'll want to keep your emails short and straightforward according to the 2016 email marketing tips guide.
Cut as much unnecessary language out of the text as possible and stay focused on the goal of your message.
And remember, you don't always have to sell, sell, sell. When you only focus on sales pitches, then you can come across as pushy, and even gain that "used car salesman" stereotype especially when you are trying to sell automotive year make model websites.
It's okay to keep customers informed and stay in front of them, but do it with tact.
And always incorporate the most powerful words such as:
Now

Easy

Announcing

Offer

Hurry

Improvement

Today only

Only available here

Best-selling

Tested

Savings

Suddenly
And the list goes on and on. But be sure when selecting descriptive words that you're using ones that are unique to you and your specialized turn key e-commerce business.
You want to stand out from the competitors, so if they use the word "free" all over their emails, take a different approach.
Also, use words that psychologically appeal to customers. Words that promote safety, savings, exclusivity, and influence are all very effective.
You can also use words that entice fear of being left out such as "only 3 left in stock."
Take the time to get to know what psychological triggers apply to your specific customers, and use the right words that grab their attention and touch on emotions.
Use images to enhance the message
Images are an excellent way to get your message across quickly and efficiently. Here's an example from Target. They don't just tell you about the products they're promoting, but they give you clean images of them: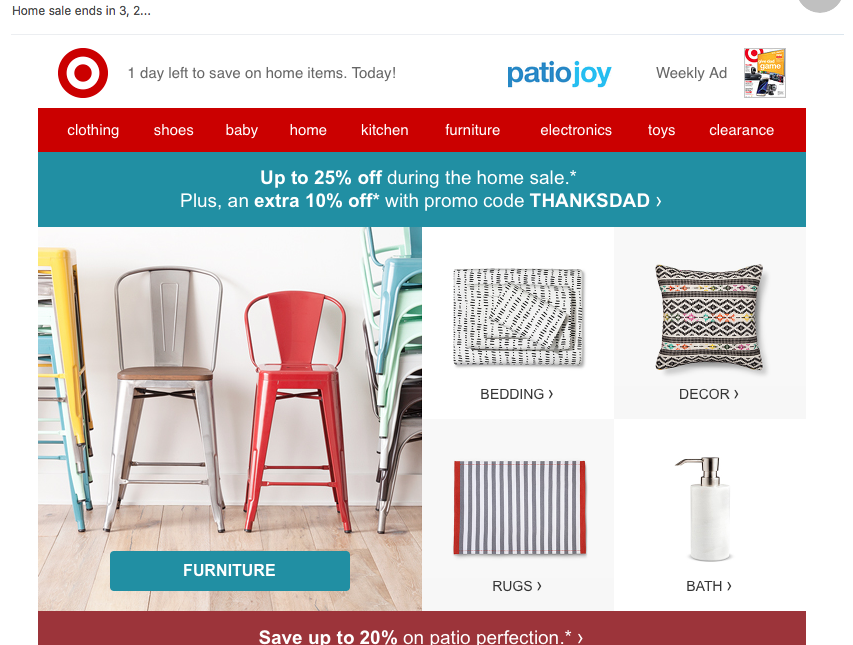 A word of caution when it comes to adding images to your email – make sure that your emails are responsive for the mobile web. Over 80% of people will open at least one (if not all) of your emails using a smartphone.
Don't muddle the meaning just to be catchy
While misleading subject lines might get people to open your email once – trust that they won't let their time be wasted twice.
You want to grab their attention, but do it in an honest way. If people feel like they were tricked, and you don't deliver on your words, then your brand's name will take a hit.
Make it personal
And to wrap up how to maximize your email marketing ROI, you need to make it personal.
According to a study done by the Aberdeen Group, the click-through rate of emails improve between 10% and 14% when the message is personalized.
Here's an example of how Walmart gets a little more personal by sending what feels like an exclusive invitation: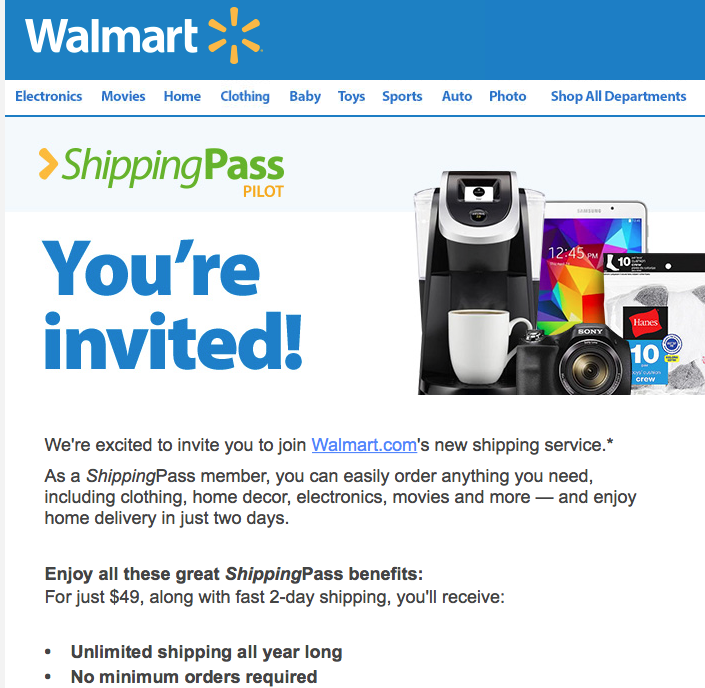 And a final note
Sitting down to write an effective email isn't easy, and it will take practice and testing to get the right formula down for your customers.
Don't get frustrated when you don't see results right away. Keep writing and learning about customers that convert and the ROI will follow.
Check us out next time when we give you the complete toolbox you need for a successful email marketing campaign. Until then!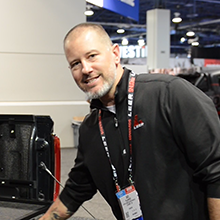 BEDSLIDE - Client Testimonial
"The best thing out of everything was that our sales went up. The new site had a better design, the checkout process was better, and ultimately achieved all of our goals. That site has been up for a year and a half and we're very happy with it, it's still awesome." - Jake Plappert