Managing E-commerce data: Are You Using the Right Tools?
While managing data might not be your favorite task on the to-do list, it's one of the most critical when you want to run a successful online business. And there are a ton of excellent tools out there that give you a genuine insight into how well you're doing. It is not unreasonable to strive for having the best auto parts website in the United States.
With that said, not all of those amazing tools will necessarily be right for you.
Here are a few questions you should ask yourself before investing in a data management tool for your online business.
Can your data management system grow with your business?
You don't want your business growth to be stunted, even for a minute, because your data management system can't expand with your business. The more seamlessly you collect data as it grows in volumes, the better your ROI. When you are working in the automotive industry, having access to tools like dci parts data online can be the difference between success and failure.

How secure is your information?
Just like your online customers expect you to have a secure website, you should expect the same from a data managing system. You want to ensure that your information is safe and secure, and readily available for you and those that you want to see it.
Is your data easy to read and report on?
When you invest in a system to help manage and understand your data, you want to ensure that all of the graphs and charts are easy to read and understand. The visual displays they produce will make your life much easier and help you get to the root of your data and resolve issues, rather than taking all of your time trying to figure out what you're looking at.
Where will your data be stored?
You'll want to know where your data will be stored because this will make a difference in aspects such as cost and security. In many cases, you can store the data in-house, but other times it might be worth bringing in a third-party to host it.
Is the price worth the functionality?
Okay – so let's get down to brass tacks. There are a lot of free tools out there for managing data, but when you get into the big leagues, you're going to want more functionality, and that is going to come with a price tag.
Make a list of the functions you need before you start shopping around for a system. For example, if you want analysis and a forecasting strategy, then make sure you have those options (and that they can be updated). The e-commerce platform for a websites you decide upon should have a robust feature set.
Do they offer customer support?
When learning a new system, there's a pretty good chance that you'll need guidance. Find out if they have customer support and how available it is.
When you run an online business, you may do it at odd hours and want to know that someone will be there if you come across a hurdle.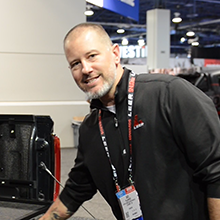 BEDSLIDE - Client Testimonial
"The best thing out of everything was that our sales went up. The new site had a better design, the checkout process was better, and ultimately achieved all of our goals. That site has been up for a year and a half and we're very happy with it, it's still awesome." - Jake Plappert