4 of the Best Productivity Habits for Business Growth
As technology has made its way into our work lives, it brings on an entirely new set of challenges when it comes to being productive.
There is more to balance now than ever before, and it's the first time in history we can be this connected and make global sales within minutes and very little interaction thanks to online shopping platforms like WebShopManager.
Our ability to run an online business pulls us in a million directions, but there are a few tricks to staying calm and productive, and here we run through four of the best practices.

#1: Make a to-do list.
It's important to note that not all to-do lists are created equal.
You don't just want an overwhelming list of things to do -- you want an organized way to move forward each day. Here are a few tips to make that happen:
Limit your to-do list to 3-5 important tasks a day.

Do the most tedious and dreaded job first.

Go ahead and write ALL tasks you need to accomplish on a separate list to get them off your brain. You can look to this list once you've finished your most important jobs first and knock the secondary ones off afterward.
#2: Compare yourself to other businesses to grow – not to envy
When you spend all of your time envying how successful an e-commerce shop is in your niche, you can easily get discouraged. The goal is to leave your insecurities at the door and stay confident when doing competitive research.
#3: Understand time management in both business and life
One of the best productivity habits of business owners is having the understanding that time is precious, and when you're working on business – you should be 100% focused on the project at hand.
However, when spending time with friends, family, and recharging your batteries, you shouldn't be looking at work tasks.
With the easy access to our business and home lives through smartphones and other portable devices, more people are mixing the two.
After all, you can be at home and stay connected to customers and business data, and you can be working and see what your family is doing.
It's hard to turn everything off at the end of the workday, but if you do, you'll find you're fresh in the morning when you start again. Plus, you can give your personal life the attention it deserves.
#4: Don't let mistakes hinder progress – grow from them
It's easy to let the little things get you down when building an online business, but before you throw the white towel in defeat, analyze your mistakes as much as you do your successes.
You grow from low points, as well as the highlights of business in different ways, and you need that balance between mistakes and ecommerce success really to get the ultimate results for your efforts.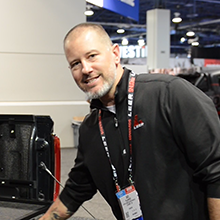 BEDSLIDE - Client Testimonial
"The best thing out of everything was that our sales went up. The new site had a better design, the checkout process was better, and ultimately achieved all of our goals. That site has been up for a year and a half and we're very happy with it, it's still awesome." - Jake Plappert