What Makes A Great Website Part 1 | Web Shop Manager
It is always important to have high quality images on your site. Although content is considered king and is the most important aspect of your site, beautiful images make a lasting impact on users as well. This article will outline some fantastic use of imagery on websites that Web Shop Manager has designed. Let's get straight to the good stuff with our first image.
This image uses an awesome blend of high definition pictures and drawing style imagery. By combining these two elements the end result is a cohesive banner that is eye catching and showcases exactly what it is meant to: steering stabilizers. The call to action is unique and right in the center of the image so the user knows exactly what to do next. This is a great way to increase conversions and CTR on your site.
Here you see a great technique being used to let customers know that any truck is in safe hands with High Impact Diesel. Showing two similar images where the only difference is how old the trucks are is a unique design feature that you often do not see on automotive eCommerce websites. Most sites feature new trucks only that are fully upgraded and customized. This banner shows that this site carries parts for any truck no matter how old or new it is.
Completely different than the other two images, this banner is designed with a grungy and hard look. The words being semi cut off work into the design of the entire site and give the image some contrast to the rest of the site. Working outside of the lines of a traditional rectangular banner is a great way to draw attention and efficiently use the space you have to make a bigger impact on viewers.
By: Dana Nevins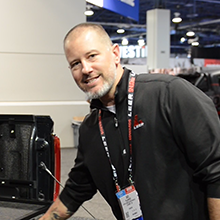 BEDSLIDE - Client Testimonial
"The best thing out of everything was that our sales went up. The new site had a better design, the checkout process was better, and ultimately achieved all of our goals. That site has been up for a year and a half and we're very happy with it, it's still awesome." - Jake Plappert