A Content Management System (CMS) like Web Shop Manager makes it easy to build and maintain a high quality website without having limited or any knowledge of HTML and CSS. Content Management Systems are also fantastic for making websites that will have big data and a large amount of products. There are several advantages for utilizing a CMS for designing or creating a website, which include but are not limited to: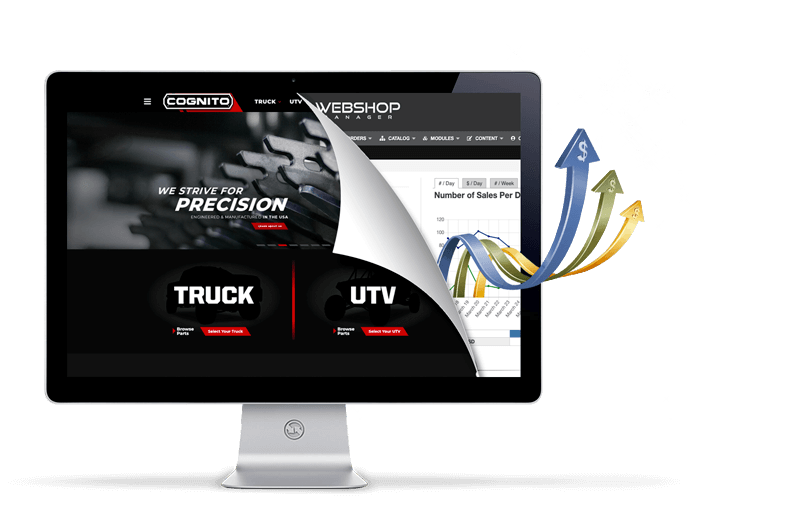 Ease of use: A CMS makes it easy to create, edit and publish content onto your website. In order to build a website you need advanced knowledge of HTML and CSS, and if you want an interactive site you will also need to know Javascript. A CMS like Web Shop Manager allows customers to easily and quickly publish their content, create or edit pages, and maintain their site with ease and no technical knowledge.


Ability to change content: A sites' structure and content can easily be changed using default templates on Content Management Systems. You can easily change the color, structure, or feel of your site in a default template and have it applied to your entire site with the click of a button.


Security. A CMS can facilitate better online security and peace of mind as it can control who can publish and edit content, as well as who can view certain content.


Customer Support. Using a CMS like Web Shop Manager has the added benefit of a customer support team that can help with any issues you may be having with your site. If you are simply hosting your site online any problems you may run into you will have to figure out for yourself. Using a CMS gives you added support as a team of specialists is always on standby to help you edit your site and explain processes to you.


Better time management. A Content Management System reduces the time it takes to create new pages and post content, allowing you to get more work done in less time. The easier it is to create and publish content, the more time you will have to post fresh content which Google loves and will reward you for with higher search engine rankings.


SEO value. Web Shop Manager has built in features that make optimizing your site for search engines incredibly easy. You will not have to hassle with where to place your Meta tags as it is laid out for you with easy to use input fields.


Better shopping experience. Content Management Systems and specifically Web Shop Manager creates a better shopping experience for your customers. With the ability to quickly add coupons and promos, update pricing, and with built in features such as shopping carts and advanced guided search, Web Shop Manager helps your customers find what they need and checkout faster, giving you a higher conversion rate and making you more money.


Control over your site. You know what you want to say about your business and how you want to say it. A CMS gives you absolute control over your website and its content, features, pricing, and more. If you want to make any changes to your site, it can usually be done with no more than a few clicks and you won't even have to change any coding.


Better customer service. By using a Contact Us page, you will clear up your personal email and have a dedicated area to customer inquiries, making it easy to organize and respond to your customers. This provides a better overall experience for your customers as they will receive a quicker response and have a better shopping experience.
By: Dana Nevins
---
Do you want to learn more?
Outpace your competition in 2017 with our eCommerce Success Guide featuring the latest trends and free marketing success tips.
Download Your Success Guide!