What Keyword (Not Provided) Means For You | Web Shop Manager
Keyword (Not Provided) - What is going to happen to my SEO efforts?
The looming reality that soon 100% of keywords will be (not provided) in Google Analytics does not change SEO practices of keyword research and content optimization – it only tweaks them slightly. Google has gotten stricter about secure (https) searching and regrettably what has come from this is that all search data that was available to us through Google Analytics is now becoming blocked or "(not provided)". Google has now made major changes that redirects any user to a secure, SSL encrypted, search environment. Paid search data will not be affected by this rollout of security changes by Google.
These changes will affect the way that SEO's can monitor and track metrics and organic traffic that is driven to sites via keywords, and we will no longer have the ability to predict possible keyword opportunities based on current data.

Graph taken from www.NotProvidedCount.com
What does all of this mean?
Since we will no longer be able to see search traffic in regards to keywords and which keywords are driving traffic to specific pages, we will have to start running ranking reports more frequently to see how certain keywords are behaving and if they are a valuable asset.
We will no longer be able to see long-tail keyword traffic patterns, which can make up a great deal of traffic. Since Google's bots are becoming more clever every day and their ability to understand synonyms and inquisitive queries, we can start implementing semantic SEO on a larger level instead and move away from long tail keywords and instead optimize for different meanings of the same keywords.
There is some speculation that Google is moving towards all organic search being marked as (not provided) to push internet marketers towards using Adwords and boost ad sales as this information will still be accessible in Google Analytics. Since organic search is known to drive more traffic to sites than paid ads, this makes sense as the majority of Google's revenue comes from advertising and not many people partake in PPC advertising. What this means is that Google has, as Danny Sullivan from Search Engine Land puts it, put a price on privacy.
Moving forward
Whenever we get hit by bombs like this from Google, we learn to get up, shake off the dust and keep moving. Our ability to track keywords on Google Analytics may have been impaired, but the SEO industry is a creative one, and most of us enjoy roadblocks and challenges to keep work fun. As mentioned above, we can start looking at semantic SEO and focus our time and energy into the minds of searchers and hopefully come up with a new winning strategy that will appease the Gods of Google.
By:
Dana Nevins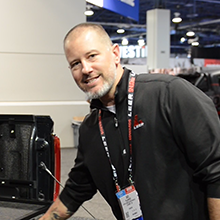 BEDSLIDE - Client Testimonial
"The best thing out of everything was that our sales went up. The new site had a better design, the checkout process was better, and ultimately achieved all of our goals. That site has been up for a year and a half and we're very happy with it, it's still awesome." - Jake Plappert