Tips for Reducing the Bounce Rate of Your Ecommerce Site
The Bounce Rate on your individual website pages is an extremely important metric to keep track of if you are striving to improve your online success. "Bounce Rate" is a term used in web traffic analysis that represents the number of visitors who land on a site and leave before delving further into the site and viewing other pages. There is no standard for the amount of time a visitor can spend on a site page and still be counted as a "bounce" upon clicking the back button or navigating away from your website. The goal is to entice people further into your site, so as long as they don't click on any other site pages, it is counted as a bounce once they either leave your site, or the session times out (after about 30 minutes of no activity). This means that in order to quantitatively start reducing bounce rate, you have to do more than just draw people in and increase traffic; you have to interest them enough with your content to make them want to look further into the site.
3 Steps You Can Take to Start Lowering Bounce Rate
The search engine juggernaut, Google, periodically releases information and updates as to how their ranking systems work and what you can do to work cohesively with these standards. And make no mistake—Bounce rate is a major factor in how your site is indexed by Google and the page rank that is subsequently given to it. The reason behind this is simple, a page's content and inbound links can suggest a high level of relevancy for a particular ecommerce keyword or phrase, but that doesn't always mean it should be ranked highly. A high bounce rate tells Google that while the page itself has the necessary keywords and links to rank well, it probably doesn't have the content that visitors were looking for to begin with. Here are 3 quick tips you can utilize in regards to Bounce Rate Optimization on your website:
Meaningful Content & Clear Navigation: Bounce rate is one of the most important aspects in determining your page rank, and a lot of websites generate a high volume of bounces because they aren't presenting the content the user was looking for. If a user lands on one of your site pages and doesn't see anything related to whatever it was they were searching for, they're obviously going to go back and try somewhere else. Make sure you are optimizing each page for information that is actually being provided, and that this information is immediately apparent upon landing on the page.
User Testing: You can perform analytical tests centered around hard data all day, but there are few things that are as valuable as genuine feedback coming straight from an actual person. Take the time to have real users test landing pages on your site and tell you what they do/don't like about them, whether it's an aspect of theweb design or a matter of content. Any common dislikes can be changed and you may see improvements to your bounce rate immediately!
A/B Multivariate Testing: The exact definition of multivariate testing is "a process by which more than one component of a website may be tested in a live environment." We are listing this as the third step in Bounce Rate Optimization because, realistically, it should be done continuously. Using your Google Analytics account, multivariate testing can theoretically be used to implement and test a limitless number of strategic combinations on a web page. Doing things such as changing the layout of a page, the font, or the images being used, and seeing which combinations are most effective is an example of multivariate testing. By researching and keeping track of which elements of your site pages are improving your bounce rates or making them worse, you can dramatically improve the overall success of your site.
Understand the Reality of your Bounce Rate & Improve it!
Bounce rate is an interesting statistic because while it does impact your page rank, a high rate doesn't necessarily prove that your website isn't giving visitors what they want. For this very reason, sometimes it can be taken with a grain of salt. For example, if you're looking at the bounce rate for a page that is just a blog post or a news article, the time spent on that page is a much more important metric. Since most people that were looking for an article on that subject would read it and then leave anyways, you shouldn't get discouraged by a high bounce rate and should instead look at whether or not they're staying long enough to finish the whole thing. With that being said, improving your bounce rate can never be a bad thing! It raises page rank and means that people are interested enough in your site to navigate through it and look around. By creating useful content, testing site pages with real users, and utilizing multivariate testing, you can start to see immediate improvements in your website's bounce rate!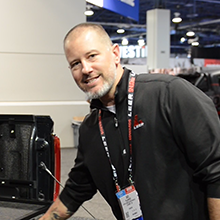 BEDSLIDE - Client Testimonial
"The best thing out of everything was that our sales went up. The new site had a better design, the checkout process was better, and ultimately achieved all of our goals. That site has been up for a year and a half and we're very happy with it, it's still awesome." - Jake Plappert