WebShopManager's Ultimate Website Logo Design Feedback
Our biggest hurdle in meeting customer expectations is understanding what it is that they like or what creatively. Part of that is customer communication and feedback on the design services we provide, that is why I decided to share today the most amazing logo design feedback we have ever received after building hundreds of website logos (and website designs) over the last decade. This is in response to 8 logo concepts...
I like the logos. Some more than others, but here is my review of each:
Logo 1: I like how the font is two tone and the logo is appealing, but appears to 'fitness' and less holistic, though. The font is mediocre.

Logo 2: Less appealing logo than 1 but I prefer the side by side logo and words.

Logo 3: Excellent use of logo and name. However, I fear that the logo will not be sufficient standing alone.

Logo 4: I didn't know that was a tree. LOL. I'm not a fan of the red, but the logo is good (minus tree). Also, we are not fans of the stacked words.

Logo 5: Alien logo? Font is killer, though!! Logo I could do without.

Logo 6: Perfect. My partner still needs convincing on this, but I love it. It's very creative, fresh and alluring. I am inspired by the logo, font and color coordination. I would love to see this in grey instead of black with sherbert orange accents somewhere, though. Can we do that?

Logo 7: Very 'magazine' Great for print, bad for web. Seems motorsport looking. I love how you are not afraid to utilize shading and fade. Overall, I like where you were headed with this one.

Logo 8: Very eye catching and memorable, but same as 7, as it appears motorsport. Put that font on a motorcycle exhaust and I'll buy it. Maybe this look would be good for muscular health or strength training products for us, though.
Let's see some modifications based on these comments, as well as a closer look at logo 4,6, and 7 in particular.
Moving forward with this feedback we were able to create 8 more concepts and from those the client selected a few that were 'amazing' to mock up in the template design we began working on and the final logo was selected based on a combination of what looked best in the design as well as on a business card.
By:
Dana Nevins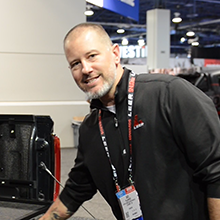 BEDSLIDE - Client Testimonial
"The best thing out of everything was that our sales went up. The new site had a better design, the checkout process was better, and ultimately achieved all of our goals. That site has been up for a year and a half and we're very happy with it, it's still awesome." - Jake Plappert