Web Shop Manager - PayPal Express Checkout
PayPal Express Checkout & Web Shop Manager Unite!

In the world of eCommerce, the faster you can get a customer through the checkout process, the better. As a part of Web Shop Manager's (WSM) never ending quest to provide our clients with the most powerful applications and effective eCommerce solutions, we are now offering support of the PayPal Express Checkout feature! PayPal Express Checkout has been increasing users' PayPal conversions by 18%!
But what exactly can PayPal Express do for you? Well, in a few words:
Offer the fastest and most fluid checkout process possible
Receive a seal of trust from PayPal on your website
Increase orders via PayPal than ever before!
Sounds Awesome! How does it work?
Step 1: Unlike PayPal Standard which is traditionally embedded as a payment option in the merchant's checkout, PayPal Express Checkout is initiated within the shopping cart via the familiar PayPal logo. The customer simply clicks this logo and is taken to their PayPal account info, which can be edited of course.
Step 2: The buyer logs into his or her PayPal account and selects the default shipping address listed in their account information (so they don't have to enter it at checkout) and default funding for the purchase. Both of these can easily be changed by the buyer if they wish.
Step 3: The buyer is then taken to confirm the checkout on your website to complete the transaction, and that's it! Just like that, the user has completed the checkout process without even taking their credit card out and the order has been sent your way.
Is it really that important?
Yes! No matter what industry you're involved in, the online selling market is probably pretty competitive. That's just the reality of the world we live in today, and as a result it has become crucial to offer customers the best user experience you can. There are 2 primary reasons that PayPal Express Checkout is beneficial to any eCommerce website:
Faster Checkout. Maintaining a fast and safe checkout process is proven to reduce shopping cart abandonment, and increase customer loyalty. With so many options out there now, cart abandonment has become an issue for sites that do not cater to the user and offer easy to use checkout options. By making yours as fast and intuitive as possible, you are ensuring that customers not only follow through with their purchase, but come back later as well.
More Checkout Options. With more and more checkout options surfacing, consumers have started to make buying decisions based on these specific features. The undeniable truth is: the more options you provide buyers with, the more likely it is that you support each person's preferred checkout method.
Get Started with PayPal Express Checkout Today!
Contact us today for more information on how PayPal Express can be implemented on your site, and start selling like never before!
By:
Dana Nevins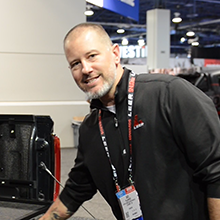 BEDSLIDE - Client Testimonial
"The best thing out of everything was that our sales went up. The new site had a better design, the checkout process was better, and ultimately achieved all of our goals. That site has been up for a year and a half and we're very happy with it, it's still awesome." - Jake Plappert