5 Must Haves for eCommerce Product Pages
Every year, the amount of people that choose to enjoy their shopping from the comfort of their own home increases. The ease of use is the major factor here, quite often they need something but don't have the time to run to the store. This increase creates a huge market for those looking to start a web presence, so it's very important to offer the highest quality online shopping experience possible. But it takes some effort; there's an inherent level of mistrust when it comes to shopping online. This is mostly due to the fact that the customer isn't actually there and they can't physically touch whatever it is they're thinking about buying. As an eCommerce retailer, it's in your best interest to alleviate as much of this uncertainty as you can.

The simple solution to this obstacle is creating quality eCommerce product pages. There are general guidelines to follow when it comes to making these pages the best that you can, and some of them vary from industry to industry. When it comes to Automotive eCommerce, the products being offered are generally quite expensive, so the way you prioritize your product pages is especially crucial. Below are 5 things you can't afford to leave out while designing your Automotive Aftermarket Parts product pages:
At Web Design Solutions, we have excelled at cultivating eCommerce success in the Automotive Aftermarket industry for over 10 years. Through firsthand experience, we have accrued the knowledge necessary to label ourselves as experts in the field, and we'd be happy to use this experience to take your eCommerce website to the next level. Contact us for more information on becoming business partners in the Automotive eCommerce industry.
By: Dana Nevins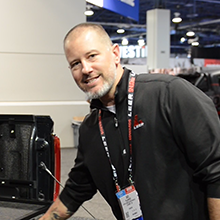 BEDSLIDE - Client Testimonial
"The best thing out of everything was that our sales went up. The new site had a better design, the checkout process was better, and ultimately achieved all of our goals. That site has been up for a year and a half and we're very happy with it, it's still awesome." - Jake Plappert