Add new content to Increase eCommerce Success
Getting your online eCommerce website up and running is a huge step for you and your growing e-business, but it's not the only step that needs to be taken. The work isn't done just because you have some sort of online presence. Just like a brick and mortar store, your site needs to be constantly growing and evolving with the flow of business in your industry. There are so many different options nowadays for people who are browsing the web that a kind of "browsing impatience" has become the norm. If your website doesn't deliver something relevant and important right off the bat, people will simply move on to the next one. Here are some tips for keeping your eCommerce website fresh and interesting:


Tips On Growing eCommerce Success
The only constant in any industry is change. In other words, the only thing you can be sure of is that information, techniques, prices, and ideas in general will always change. It's tremendously important to keep your website up to date for two reasons; you don't want a customer who is up to date on industry information to read your outdated site, and you don't want an uninformed customer making bad decisions based off of your website
Focus on the quality of content written for your site. Utilizing the talents of someone who can put together easy to read content that is also full of valuable eCommerce SEO content is a huge advantage. If the writing on your website is not only grammatically advanced, but easy to read and personable, customers will feel encouraged to come back. Don't be afraid to occasionally use some kind of witty humor as well, it will do nothing but good for building relationships with clients
Blog! Not only does a consistent eCommerce blog keep people coming back to your page, it also provides you with an easy way to generate SEO rich content. Recently Google introduced a new system in the way their search engine crawls web pages, and how recently/often the site has been updated is now a major factor. The reasons for keeping a regularly updated and relevant blog just keep stacking up!

Keep dead links off of your page. Linking is a vital component in keeping your page rank for search engines as high as possible, but the links need to work and be relevant. Clicking on a link that takes the potential customer to an error page will be a huge deterrent in continuing to browse your eCommerce website. It's frustrating and it makes your site look as if it hasn't been updated in forever, and if it seems like it isn't being updated, why not go find one that is?

Communicate with your customers by sending out information on any new updates. Whenever a new feature, product, or site function is launched, make sure people know about it! This will keep your e-business on peoples' minds, and keep them coming back to your website. Stay updated on new features in your CMS (Content Management System), and maximise how much use you get out of it.
Update Visuals that are displayed throughout your website. You need to give visitors a reason to stay on your page, and the unfortunate reality is that a lot of people do not have the patience to read through pages of written content, so visuals are important. Often times, good visuals will influence people to stay longer and delve into your website a little more, simply because they are curious as to what the pictures represent. Constantly updating and changing your visuals will also give returning clients a reason to keep coming back.
By: Dana Nevins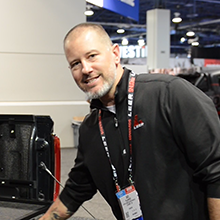 BEDSLIDE - Client Testimonial
"The best thing out of everything was that our sales went up. The new site had a better design, the checkout process was better, and ultimately achieved all of our goals. That site has been up for a year and a half and we're very happy with it, it's still awesome." - Jake Plappert