Ecommerce - The Importance Of Repeat Customers
For any kind of business, the importance of repeat customers is second to none: it is much easier and more cost effective to maintain repeat customers than it is to bring in new ones. For an eCommerce website, it is especially crucial. Marketing, ad campaigns, and the numerous other advertisement strategies that are necessary to bring in more business consume a massive amount of resources. Even after spending all this time on generating more clients, it is entirely dependent on timing. A new prospective customer will only bring their business to you if it's something they happen to need at that moment. Not only is it cost effective to you and your growing e-business, but a repeat customer is like your own personal promoter. If someone is bringing their business back to you, they obviously liked what they got the first time around. Chances are they will spread the word to anyone they know that might be looking for a similar service.
Tips to maintaining a solid foundation with your clientele and bringing customers back
Be reliable. Offering a quality good or service is obviously essential in drawing people back to your business website, but being consistent with this quality is just as important. Your online store will keep people coming back if they know that they will be satisfied every time they come to you.

Hire positive, energetic people. Anyone that might be interacting with the customers has the opportunity to either attract them or push them away. Let's face it, everyone has had a bad experience with someone from a customer service department, and few things will repel you faster than an unpleasant employee. A friendly staff will allow clients to feel comfortable calling you, and often times are the deciding factor in whether or not that person comes back.

Develop a personal relationship with customers whenever possible. This doesn't mean you have to invite them over on your birthday, but you can still get to know them over time. A repeat customer is someone you get to know, that's the whole goal here, and connecting on a personal level is a huge competitive advantage; especially in the eCommerce field. Everyone loves walking into their favorite deli and an employee calls you by name and remembers your favorite meal.

Keep in contact through email and social media. Send emails with special offers that are exclusive to those who signed up. This will separate you from the pack, and give customers incentive to stick with you. Promote discounts and specials on your Facebook page. Not only is this an effective form of online marketing, but everyone loves a good deal. A consistent flow of email blasts and advertising through social media will show your customers that you care, and will do whatever is in your power to make them happy.
By:
Dana Nevins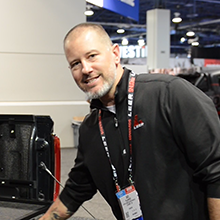 BEDSLIDE - Client Testimonial
"The best thing out of everything was that our sales went up. The new site had a better design, the checkout process was better, and ultimately achieved all of our goals. That site has been up for a year and a half and we're very happy with it, it's still awesome." - Jake Plappert