PCI Compliant Web Hosting At An Affordable Price!
Web Shop Manager offers a cost effective eCommerce solution capable of 100% PCI compliant web hosting to anyone looking to start up an online business. Most small business are left to figure out how to be PCI compliant on their own, but here are Web Shop Manager (WSM) we can guide you to operate a successful PCI compliant ecommerce store. Shopping online should be easy, fun and productive. When consumers have to worry about their personal information, it takes away the allure of shopping online. This the basic premise of why you should choose a ecommerce platform that is 100% PCI compliant.
What is PCI compliant web hosting?
If you are running an online business it is crucial that you have your shopping cart PCI compliant to ensure that you are helping promote a safe and secure outlet for shoppers. When shoppers feel safe to check out online, the entire eCommerce industry benefits!
Payment Card Industry (PCI) mandates that any eCommerce transaction is completed over a PCI compliant web hosting server in addition to all credit card numbers being stored on a different server. Web Shop Manager works with Authorize.net and Sage payment gateways to allow credit card numbers to be store on a different server, making sure your ecommerce website is PCI compliant. Two of the major rules of being PCI compliant is that you 1) do not store CID numbers and 2) you do not store the full credit card number anywhere. WSM ensures that these rules are followed!
PCI online rules and principles are set in place to provide a standard of safety for online consumers. It is beneficial for the ecommerce community to follow and participate in the rules set forth by the governing body to help encourage shoppers to trust online PCI compliant shopping carts.
Easy PCI Compliance With Web Shop Manager!
With Web Shop Manager you not only get our established software that is PCI compliance ready, you also get the knowledge and support of our team that is well versed in how to be PCI compliant. We continue to strive to become experts in complianing with PCI online standards. So what exactly do you have to do to be PCI compliant with us? Make sure to get a free quote from our PCI compliant expert business development team. Once your site is hosted with us, all it takes is your unique Authorize.net or Sage account pin inputted into our system, and bam! you have an e-commerce store that is PCI compliant!
Is your PCI Compliant? Complete This Form To Learn
By: Dana Nevins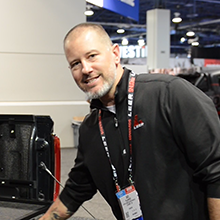 BEDSLIDE - Client Testimonial
"The best thing out of everything was that our sales went up. The new site had a better design, the checkout process was better, and ultimately achieved all of our goals. That site has been up for a year and a half and we're very happy with it, it's still awesome." - Jake Plappert