Adding YouTube Video To Website for Commerce
As eCommerce website developers, we often get asked the question, "What can I do to make my website stand out from the competition?". While there are many ways that we can suggest for our clients to proceed in differentiating themselves, we often suggest that they add videos to their product pages because of its effectiveness and relative ease. However, we find that this advice rarely gets acted upon! My assumption is that many people think that adding a video to their product page is something very technical that they would not be able to do. Well, my goal of this blog post is to have you posting videos in your sleep.
What Can Product Videos Do For My eCommerce Sales?
Before I proceed with the explanation of HOW to add videos, I think I need to start with the WHY. Here at Web Shop Manager, we know that product videos will help your sales because we have seen it work for many of our clients and friends. But here are some cold hard facts if you don't believe us…
Customers that viewed a video on a product page are 85% more likely to buy

(Internet Retailer, March 2010)

YouTube is second to Google as the largest Search Engine. Two million video's are viewed per day

(blog.shop.org, Jul 2011)

eCommerce giant Zappos reported a 6%-30% sales increase on products where videos were added

Obtaining Videos for Your eCommerce Website
Now that you are officially convinced of the potential power of adding videos to your site, your next question is "Where do I get these videos?" There are a couple ways that you can precede, but the most important step is to set up your own YouTube channel so that you can organize your videos (both borrowed and original). To set this up, please visit this YouTube page.
The next step really depends on what types of products you sell. If you feature products from a manufacturer that already has videos created, then most of the work is done for you! Simply search YouTube for the product videos and add them to your Playlist by clicking the +Playlist button under the video (you must be logged in to do this).
Learn more about adding Playlists and Videos to your Playlist. You will want to avoid using videos that are created by competitors because it may direct traffic to their site (not what you want). I would suggest using manufacture's videos or creating videos yourself.
This is the other option for adding videos to your YouTube playlist: creating and upload videos yourself. This avenue is much more time consuming, but it holds a lot of SEO value for both your product pages and your YouTube account. If you sell your own unique products or the manufacturers of your products do not supply videos via YouTube, this is the way that you will have to go. There are many inexpensive HD video recorders that come complete with software, such as the Flip video camera, that you can use to simply shoot and upload to your YouTube account with no editing required (a couple takes may be necessary).
How To Add Videos To Website
However you choose to acquire videos to your YouTube account is up to you, but regardless the next steps is so easy you will wonder why you waited so long to add a video to your product page. Here is the step by steps to embedding a video on your WSM product page…
Find the video that you want to embed from your channel , click Share, then embed
Copy the code that was created for you. It will look something like this...
iframe src="http://www.youtube.com/embed/Yn99OnNhGfw" frameborder="0" width="560" height="349">iframe
Log into WSM and navigate to Catalog > Products. Search and find the product that you have a video for
Edit your product and scroll down the Extra Details section of the page
In the Title field type in 'Videos' in the Description field paste the code that you copied from YouTube
Click Save Changes!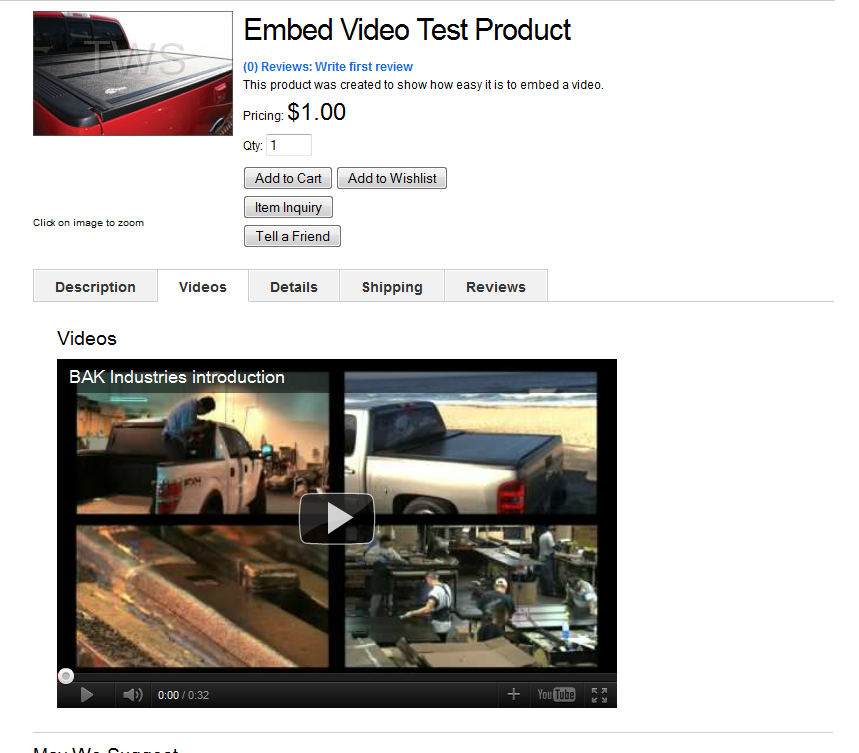 You can now view your product on the front end of your site and see your Videos tab added. Here a customer can watch a video on that specific product without navigating away from your site!
Since metrics are so important in eCommerce, I would highly suggest testing videos on a few of your most popular products and monitoring the effect that adding a video has had. Once you have confirmed that videos have positively affected your product's sales, then continue with adding videos to more and more products.
If you have any questions on adding videos to your products pages, please submit a Support Request and someone from our Customer Experience team will gladly provide more direction on this topic.By: Dana Nevins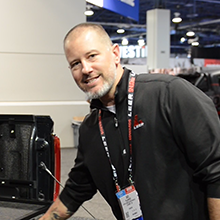 BEDSLIDE - Client Testimonial
"The best thing out of everything was that our sales went up. The new site had a better design, the checkout process was better, and ultimately achieved all of our goals. That site has been up for a year and a half and we're very happy with it, it's still awesome." - Jake Plappert