Web Shop Manager - eBridge Software eCommerce Integration
eBridge Software and Web Shop Manager Form Partnership to Offer Web Shop Manager eCommerce Integration and ERP Intergration to Over 40 Accounting/ERP Systems
This partnership allows Web Shop Manager merchants to integrate web sales orders, update inventory and shipping details automatically to over 40 major Accounting/ERP packages.

BURLINGTON, Ontario [June, 2011] – Web Shop Manager, a leading eCommerce software provider and eBridge Connections, a world leading provider of accounting software integration solutions, announced today their partnership aimed at providing ERP integration to Web Shop Manager merchants. As the number of retailers deploying online stores continues to rise, many merchant platforms fail to offer an effective way to integrate sales data into accounting packages. As a result, resources are unnecessarily devoted to the manual keying of data during order processing. This partnership will provide Web Shop Manager merchants with an integrated online solution, facilitating a streamlined business processes and eliminate the need for costly custom solutions, resulting in a fast ROI for the merchant and savings in both time and labor.
With hundreds of happy customers and counting, Web Shop Managers' highest priority continues to be customer experience with fanatical in-house design, development and support from real humans. We are not a template website factor, at Web Shop Manager we produce one of a kind personalized designs for each of our clients. Our mission is to ensure your online store not only survives, but thrives in this tough economy through innovative eCommerce website design techniques and eCommerce strategies based on solid creative foundations. Dana Nevins, Founder/CEO Web Shop Manager
The eBridge software integration platform currently supports connectors for 40+ of the world's most popular accounting packages, including products from Microsoft, SAP, Sage and Intuit. Providing an easy to use, SaaS-based platform merchants can plug into is our vision moving forward, said Colin Brown, CEO of eBridge Connections The ability to connect the accounting package or ERP to a merchant's eCommerce store unattended, will significantly reduce errors and allow the merchant to direct their attention to other business needs.
eBridge Software delivers powerful SaaS-based accounting integration that connects and automates vital business processes. The universal solution supports an ever-growing list of 40 accounting and ERP systems including Microsoft Dynamics, Sage, SAP, Intuit, and many more. With connections to more than 20 popular eCommerce carts, thousands of EDI trading partners and leading CRM platforms, eBridge Connections has become the integration platform of choice for businesses worldwide.
40 Accounting Packages | 1000's of Connections | Millions of Documents
About Web Shop Manager
Located in sunny San Diego, CA, Web Shop Manager is specialized in the creation of Content Driven eCommerce Websites using their revolutionary SaaS-based eCommerce Content Management System. Web Shop Manager is breaking new ground combining intuitive content creation tools and powerful conversion boosting marketing such as live chat, an integrated blog, enterprise level guided navigation systems, and a true 1-step fully optimized AJAX checkout to reduce bounce/abandonment rates.
For more information contact:
Sales Business Development
Web Shop Manager
Tel: 619.663.9306
E-mail: sales@webdesignsolutions.com
By:
Dana Nevins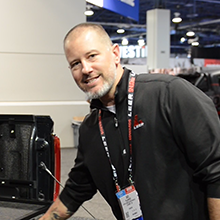 BEDSLIDE - Client Testimonial
"The best thing out of everything was that our sales went up. The new site had a better design, the checkout process was better, and ultimately achieved all of our goals. That site has been up for a year and a half and we're very happy with it, it's still awesome." - Jake Plappert