Process for Activating Product Inventory Management System with Option Sets
Web Shop Manager™ (WSM) is introducing a new Product Inventory Management system that works in conjunction with Product Options that our eCommerce clients are already familiar with. Product Options with Inventory can be used for Inventory Management when there are 10 red-small t-shirts, and 12 red-mediums. Assigning inventory levels to these configurations will ensure that your customer will not be able to order more than you have on hand. In addition, you can use this system to assign specific SKUs to configurations. For instance if red-small has its own SKU you can assign that only to that particular configuration, in a sense creating a brand new item.
Please notify a WSM team member if this seems like something your eCommerce website could benefit from. This feature will need to be enabled for you. Once this has been enabled the steps to proceed are as follows.
Create Global or Local Option Sets
The procedure to create Option Sets with Inventory is very similar to creating Option Sets in general. The procedure and more details can be found on the Product Options page. Remember to use Global Options wherever possible to help save time and to help keep your eCommerce Product Options organized. For instance, if small – medium – large are used for more than one item it makes sense to add that as a global option.
On Option Sets that are to be used in conjunction with Inventory Management, check Yes next to Inventory. Please see the image below for an example: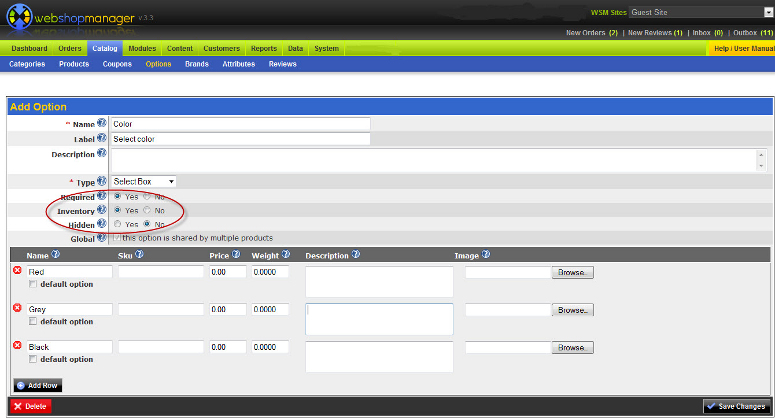 Assign Options Sets with Inventory to Products
The next step is to assign the corresponding Option Sets to the product.
Navigate to the product you wish to assign Option Sets with Inventory too and follow the steps below: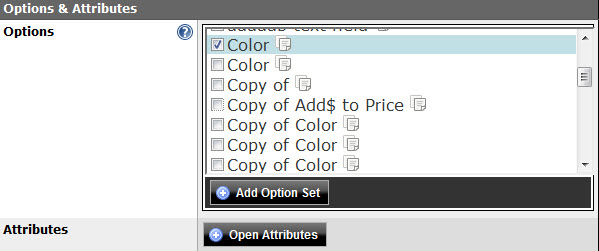 Scroll to the Options & Attributes section of the Product Page
Add a Local Option Set if applicable, and/or select the Global Option sets that correspond to this product
Save Changes
Edit the product with Option Sets assigned, and follow these steps:

Scroll to the Inventory section of the Product Page
Click Open Inventory Config, where you will see the following screen with numbered items discussed below: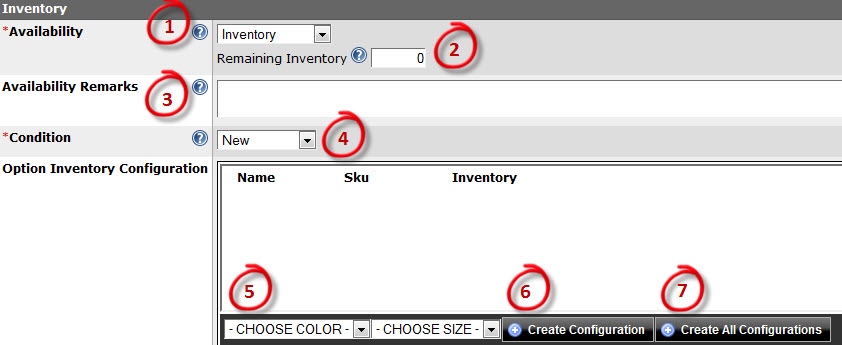 Availability – Availability can be changed to a number of settings including Available, Out of Stock, Sold. Each selection will modify the way the product appears on the frontend of your eCommerce site. Leaving the setting to Available is the recommended selection if using Option Sets with Inventory.
Remaining Inventory – Should be used in conjunction with the Inventory availability setting. This number indicates the number of products available and site visitors will not be able to purchase more than this number.
Availability Remarks – This field gives a description about the main products availability. Good for letting customers know any special instructions about the availability such as, lead times.
Condition – Identifies whether a product is newly manufactured, used, or used with refurbishing.
Option Sets with Inventory – Each Option Set with Inventory that has been assigned to this product will display here as a drop down. You must choose one item from each drop down and then click:
Create Configuration – Click Create Configuration once your selection is finished from each of the Option Sets dropdowns.
Create All Configurations – Clicking this button will automatically generate each combination possible. Ie white – small, white – medium, white – large etc.
Assign Inventory to Configurations
Each Configuration can be edited in the fields that are numbered and explained below: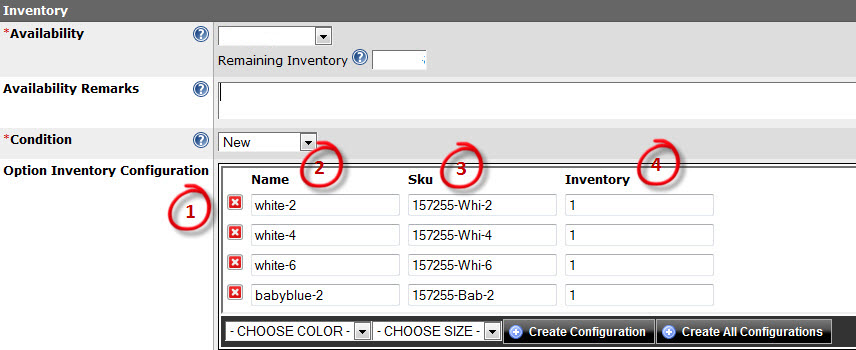 Delete – Clicking this button will instantly remove the configuration. Once deleted, it will no longer be visible on the backend or frontend of your eCommerce site.
Name – The Name is generated from the Option Set Name field. However, this can be edited on this screen if you prefer that the combination of the (2) Option Sets have a unique identifier.
SKU – This is automatically generated from the WSM Item number and portions of the Option Set Name fields. However, this can be edited to a unique SKU if you wish.
Inventory – This number dictates the amount of products available for each configuration. In this example there is (1) item available in each configuration. If a customer tries to select more than the available amount on the frontend they will receive an error message.
Save your Configurations once you are satisfied.
Customer View of Options with Inventory Management
Your eCommerce customers will see something that appears like all other Option Sets on your site blending seamlessly.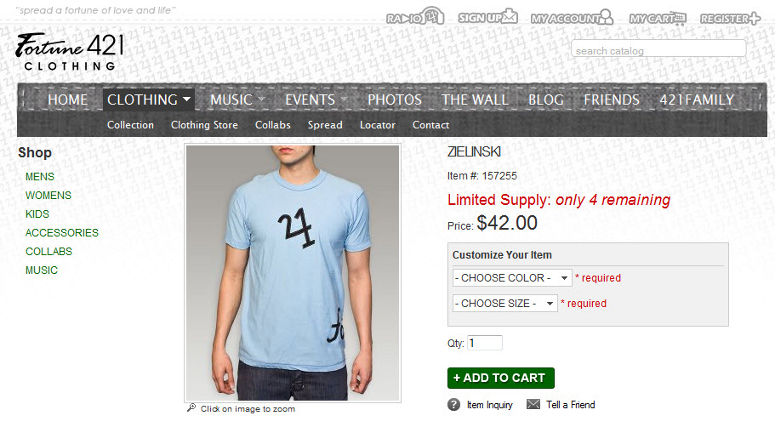 Best Inventory Management Software
Managing eCommerce Products and Inventory has never been easier. Our customers can take something that was already familiar to them and now use it for Product Inventory Management. Our modular eCommerce Content Management System (eCommerce CMS) makes it easy to take existing eCommerce features and use them in new ways. We are thrilled to offer this new eCommerce enhancement to our existing clients, and hope this may alleviate pain for those that have yet to discover how WSM can help them.
Contact WSM today to find out how we have helped 100s of others and how we can help your eCommerce aspirations become a reality. Just one warning: if you are looking to pull a number and get a cookie cutter experience, we are not the right fit for you. However, if you are looking for personalized attention and a devoted team of web designers, website developers, and eCommerce support staff, you may have just found your new home.
By: Dana Nevins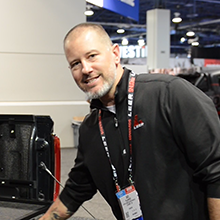 BEDSLIDE - Client Testimonial
"The best thing out of everything was that our sales went up. The new site had a better design, the checkout process was better, and ultimately achieved all of our goals. That site has been up for a year and a half and we're very happy with it, it's still awesome." - Jake Plappert