March 2017 Web Shop Manager talks Muse Awards, upcoming events, and new website features.
2017 started off with a bang and March has been no exception. We've got new site releases, upcoming events we'll be attending, we even won another award!
In this issue:
WSM Wins 2017 Muse Award
New ChannelAdvisor Integration
March 2017 New Website Releases
New Product Enhancements
Upcoming Events WSM will be attending
WSM News

BAK Industries Website Redesign Wins Gold Muse Award
The new website for BAK industries has garnered quite a lot of attention lately capturing yet another award. The new site is not just a pretty face; however, it has driven results for their dealer base with a 33% increase in "find a local dealer" conversions.
About Muse
Muse Creative Awards is an international competition for creative professionals who possess the unique ability to inspire with a concept, idea or design - whether through traditional materials or electronic media.

Web Shop Manager Launches Rare Electrical
with live ChannelAdvisor Integration
Deploy your own completely turn-key web store solution from your ChannelAdvisor account using fitment data from your existing eBay listings and capture more profit.
About ChannelAdvisor
ChannelAdvisor has been on the front lines of e-commerce since 2001, helping retailers and branded manufacturers manage more listings, reach more consumers and sell more products.
New Site Release March 2017
New Website Release - Baja Kits from Brenthel Racing
Baja 500 winner Brenthel Racing teamed up with Web Shop Manager to launch an all Baja Kits website with a rich shopping experience using highly customized SDC product data.
Additional featured March websites:
Soft Serve Parts
HD Diesel Supply
All Terrain Outfitters 4x4
Events
Ultimate Callout Challenge
The 2017 Ultimate Callout Challenge will be hosted at Lucas Oil Raceway in Indianapolis, IN April 21st - 23rd and features drag races, dyno runs, sled pulls, and a truck show.
Web Shop Manager will be onsite to speak with vendors and customers face-to-face. If you plan to be at the show and would like to discuss your eCommerce goals, please email kris@webshopmanager.com to setup a time to meet.

2017 ACPN Knowledge Exchange
The 44th annual conference will be held April 23rd – 26th in Kansas City, MO.
The Automotive Content Professionals Network conference provides a unique opportunity to learn, share best practices, network with peers, and interact with service providers in the content management space. If you plan to be at the show and would like to get together, please email dana@webshopmanager.com to setup a time to meet.
Product Enhancements
WSM 2017 Product Improvements and Updates
New Payment Method - PayPal Credit. Financing option for customers to be able to apply and sign into their account while they are on the website.
PayPal fraud enhancement, WSM sends PayPal the order shipping information for additional fraud protection on the order.
Added the AVS response to the Order API. View the current PDF, https://wdsolutions.atlassian.net/wiki/display/WSMU/WSM+API+Suite
Completed the quarterly sales tax by zip code update.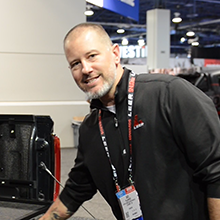 BEDSLIDE - Client Testimonial
"The best thing out of everything was that our sales went up. The new site had a better design, the checkout process was better, and ultimately achieved all of our goals. That site has been up for a year and a half and we're very happy with it, it's still awesome." - Jake Plappert