Traits of Successful Online Stores : Improve Customer Experience
The team at Web Shop Manager has put together for our readers a list of key drivers that can help you improve the success of your e-commerce online store. Read on to learn and review some key points that you may have overlooked or put off in order to win further market share.
The Internet allows small companies to play in the big leagues. With a well-designed website, a small business can grow to reach as many people as a much larger company.
Improve customer experience by offering up an ergonomic online store
To begin with, the navigation on your store must be simple and intuitive.
To do this, you must focus on a sleek home page, where users will quickly find key information and an easy menu to navigate. Furthermore it must be logical. That is to say you must first specify the main categories before listing subcategories.However, you must also avoid including too many sub-levels in your menu. "Add to shopping cart" buttons must be visible and independent from the product page so that the visitor is enticed to purchase the product or service. They must be able to visualize the amount in their basket in real-time.

Successful online stores offer products and services that are original
If you want the website for your e-commerce store to be a success and to improve sales online, propose original products with added value.
Users have now become so accustomed to online shopping and usually have a list of favorite shops online. If you offer them exactly the same as your competitors, why should they go to your website?
They go back time and time again to their favorite e-commerce sites as they are convinced of their quality and reliability. Have a customer acquisition plan: find a niche, or add value to the consumer experience in order to convince them to buy that product from your online store.
Successful traits for online stores include a sense of security and transparency
Although online shopping has become democratized, consumers still need reassurance throughout the purchasing process. Your online store must offer all the security settings to produce a favorable customer experience as well as offering:
Legal warnings

Terms of sale

Terms of delivery

Payment methods backed up by security guarantees

Product and Service reviews

Confidentiality and data security
Furthermore, the user must not be faced with surprises once their purchase has been validated. Fees, terms and delivery times should be clearly displayed once the purchase process has been completed.
Include convincing product sheets for an improved customer experience
Without a real life salesperson to advise the visitor during this purchasing process, it is up to your product pages to sell the product. To ensure the online success of your Ecommerce store, your visitors must understand all the product features, terms of use as well as advice to help the user choose the appropriate product or products.
The visuals must be carefully thought through and chosen, using high definition where possible and ideally in a real life situation that highlights its functionality and usefulness for the end user. For technical products, it is important to remember to include a well-conceived video that demonstrates the full product practicality in an appropriate and realistic situation; the more natural the better. If the user is effectively shown how to use the product, they shall be encouraged to proceed with the purchase.
A loyalty program can improve an online experience of the customer
You will never be the only one offering a similar product online. You will always be competing for market share with a number of known and less well known competitors. Even if you position yourself in a niche, there will be someone someday, that will try to steal your market share. Especially if you are on to a good thing!
So think quickly and be nimble in order to retain your customer base by offering discounts after a certain number of purchases for example. Offer a newsletter from the outset and send personalized offers to subscribers, as well as discount codes, based on their viewing history and previous purchases.
Organize and streamline your social media presence and encourage visitors to subscribe to stay in the loop.
Online Success for your eCommerce Store
By integrating these five key factors into your e-commerce business plan, you will build a solid and high-performance base around which to build on the success of your business. Also, feel free to seek the expertise of a professional webmaster to shepherd you through the development process of your online store. They will be able to provide you with a site that meets your expectations as well as those of your customers, ensuring intuitive navigation and providing all the comforting benchmarks that will encourage users to complete their purchases and also keep them coming back time after time.
Meet us in Las Vegas for the 2016 SEMA Show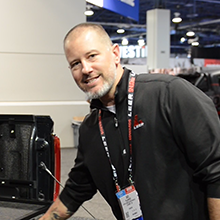 BEDSLIDE - Client Testimonial
"The best thing out of everything was that our sales went up. The new site had a better design, the checkout process was better, and ultimately achieved all of our goals. That site has been up for a year and a half and we're very happy with it, it's still awesome." - Jake Plappert