Automotive Internet Marketing: Method Survey
Although it is often alluded to here at Web Shop Manager, the automotive ecommerce market is at present in the midst of substantial growth. This market alone already accounts for over 10% of total sales online since 2014 and has continued to grow year-on-year at close to 15% since. The potential is undoubtedly there for those in a position to take advantage of it. Sales are expected to be well in excess of $6 billion by the end of 2016. Such success of course attracts new players to the market in an attempt to claim their share of the pie. Competitors must compete to attract traffic to their website or online store rather than that of a competitor. One of the main and most important differentiating factors in doing so is your unique potential to maximize your automotive internet marketing budget whatever it may be. To have the best auto parts website you need to be realistic and only try to compete when you can win.
The Web Shop Manager team has put together some questions and considerations to take into account when assessing the impact, or lack thereof, of your internet marketing plan. We hope that the following guidelines will help you to reflect and evaluate your current as well as future online store marketing.

Define clear and attainable automotive internet marketing goals
It is an obvious place to start and yet so essential. Unless you clearly define what your marketing objectives are for your business, you will be unable to measure your progress and look back at what did and did not work. Once you have defined clear and realistic goals for the coming year and beyond, it is important to take into account what is attainable with your resources, both human and financial.
Rest assured. It does not equate that a larger internet marketing budget automatically ensures you targeted traffic and a high conversion rate. This is the beauty of the internet in that it allows much smaller players to potentially take on the market leaders if they are able to get the marketing mix just right.
Should you outsource internet marketing or work in-house?
Depending on your individual marketing budget and whether you can afford the likes of a half decent web designer capable of designing creative display advertising or if not, confidently choosing a reliable automotive marketing company that understands your unique internet marketing objectives and is willing and able to deliver results on time and on schedule. All the while, remaining within a clearly defined budget and hopefully exceeding your expectations. Well that is the ideal and yet so elusive scenario. It is also important for your marketing budget to clearly define whether you wish to target multiple search engines such as Yahoo and Bing, or rather focus all your resources on the market leader Google.
The importance of targeting relevant and specific automotive keywords
Follow automotive keyword research tips to identify which keywords you need to be bidding for to attract your eCommerce target market. When your budget is limited it is often an advantage to think outside the box. One example of this is to harness the existing web crawling abilities that Google unwittingly offers, through Dynamic Search Ads or DSAs that trawl the content of the internet to supply individual customer queries with more and more targeted advertising based on their choice of keywords to perform their search. This may include specific automobile brands or individual models and automobile parts. You may well find a well of useful information to mine by dissecting your DSA queries. Determine whether you will consider targeting keywords that fall below a defined search volume. If you are operating within a tight niche market it may be worth considering highly targeted keywords that may generate less overall traffic while having higher conversion rates. Also decide before you start whether you are focusing your marketing efforts on either an existing catalog of existing products that you intend to or already carry in your inventory, or are more interested in modeling your inventory of products around the results of your keyword research in the hope to maximize traffic and hopefully sales. There is no right and wrong in either approach. Your success will result from the quality of the products you carry and the customer experience of visitors interacting with your website or online store. But that is subject matter for another article.
Automotive Content is King
This overused phrase is nonetheless still relevant. Establish a schedule for the quantity, quality and frequency of content creation. Share your content through multiple social media platforms to attract further targeted traffic to your online store. Establish clear plans in advance of how many resources you are willing to dedicate to pay per click, both in terms of time and money. Determine a point in the future that you may choose to reconsider your ad-spend and what that may depend on.
Affiliation Programs to Supplement your Marketing Efforts
Setting up affiliate programs can represent an excellent way to attract targeted traffic with the added benefit of only generating affiliate fees in return for the business that they help to generate. If you choose to take this path, keep in mind that you will need an in-house Affiliate Manager in order to promote affiliation and maintain mutually beneficial relationships with affiliates that may be located in all four corners of the world.
These are just a few elements to consider when determining your automotive internet marketing plan put together by the team here at Web Shop Manager. Contact us here for further advice.
If you have your SEMA Show dates for 2016, let us know.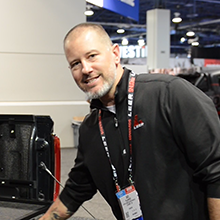 BEDSLIDE - Client Testimonial
"The best thing out of everything was that our sales went up. The new site had a better design, the checkout process was better, and ultimately achieved all of our goals. That site has been up for a year and a half and we're very happy with it, it's still awesome." - Jake Plappert