How to Improve Sales Online with Best Online Auto Store Software
With the explosion of Ecommerce over the past decade, a growing number of people are joining the online revolution to take advantage of the surge in potential customers. Selling your product or idea to a potentially global market has never been easier and yet it has also become more competitive as a result.
The sales funnel will increase online engagement
Therefore it is important to take every element of online stores into consideration when choosing the best eCommerce platform for SEO. In this article, we are going to focus on a checklist of important features to keep in mind when searching for the best software packages to help improve your sales figures.

How to Increase Sales Online? Optimize for mobile
If you want to sell products online, the good news is that it is booming as Ecommerce website sales continue to grow year on year. With more people accessing online stores via their smartphones, over 25% of Ecommerce is now conducted on smartphone and tablet devices. These days more people access the internet this way than on their desktops or laptops. The first thing to consider therefore is whether your online store is fully optimized for mobile devices. If your online store cannot easily adapt to the mobile format it will affect your sales results.If possible, try and include video content for mobile users and ensure that calls to action and buttons can also be accessed from mobile devices.
Set yourself goals one at a time to focus on to improve sales. In this scenario your main objective should be for example to concentrate on increasing traffic to your online store or working on ways to improve your conversion rate based on the existing traffic to your website.
Online tools and resources to improve sales process at your store
You will find a multitude of tools and resources offered for free online, but there are certain areas in which you should consider investing to optimize your sales potential. Consider investing your money where it counts such as employing a reputable website design company able to work to a deadline while staying on budget and with a clear understanding of your business model and objective.
Increase sales and other improvements with a funnel
To improve sales it is ultimately essential to put in place a sales funnel. Lead your visitors down a purchase path that focuses on leading them to making a purchase without any unnecessary distractions that may lead them off the desired path. Consider offering free shipping as a sales incentive. It is proven to be the ultimate motivator for visitors to place that order. Ensure yourself that the software you choose enables you to easily update product listings allows you to view sales and has a shipping module.
The team at Web Shop Manager wishes you success in your online store endeavors. Make sure to visit us again for more tips and advice on improving sales and making your online automotive store more efficient.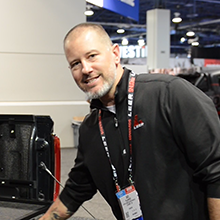 BEDSLIDE - Client Testimonial
"The best thing out of everything was that our sales went up. The new site had a better design, the checkout process was better, and ultimately achieved all of our goals. That site has been up for a year and a half and we're very happy with it, it's still awesome." - Jake Plappert