Best SEO Friendly eCommerce Platform
One of the main considerations to take into account when choosing your automotive Ecommerce platform is how much importance is given to SEO. Needless to say all Ecommerce platforms worth their salt these days advertise their SEO credentials prominently. However, not all of them offer equivalent levels of features and tools that can make a great difference to your Google rankings. If you are new to Ecommerce, you may wonder why SEO is such an important factor.
Today close to 50% of purchases conducted online start out with a simple search through Google and to a lesser extent competing search engines, according to research performed by IPSOS. Ensuring that your website or online store appears high in the search engine rankings for the main keywords you target, those relevant to the products you are selling, can make the difference between a potential sale or not. Therefore it is essential to make the right choice whether you are looking to simply add a shopping cart to your existing website, choose a hosted Ecommerce option or go for a more personalized Ecommerce solution. Look through our checklist of essential SEO features so you know what to look for when deciding on which Ecommerce solution provider to choose, especially if you are trying to grow a small online business.
Customize individual page titles with unique part or product numbers
The single most important factor with regards to SEO has to be your ability to insert your own page titles individually and this for different page types and categories. Any Ecommerce platform that claims to be SEO-friendly should definitely offer this option. However be aware that some enable you to edit page titles on product pages but not categories, so beware.

Best eCommerce Solution for Small Business : URLs optimized for SEO
This is one of the key factors in basic SEO. Favor an Ecommerce solution that allows for keyword-focused static URLs. Rather than generic terms or sequences of numbers, make sure that relevant keywords are embedded within the URL address of the webpage. If for example you are selling batteries for a Ford F250 pick-up, a static URL similar to the following is recommended: /auto-car-battery/Ford/F-250.html
Enabled 301 Redirects
Many Ecommerce platforms have a tendency to remove product pages if these are no longer available as well as category pages if changes are made. It is therefore important to ensure that 301 redirects are possible so that dead links may be redirected where necessary. This is especially true if you have selected an extremely well researched website idea for ecommerce.
Best SEO Platform for eCommerce Sites : Easy Website Navigation
It is important both for visitors and search engines to be able to find what they are looking for in your online store. To do so, check a number of elements that improve SEO compatibility. Such features as being able to navigate without JavaScript or Flash as well as having primary text links to navigate rather than images. Avoid link duplication and any unnecessary links, and be sure that you are able to modify individual links within the navigation menus.
Fully automated XML Sitemaps - What is the difference between HTML and XML?
In order to improve your website for the benefit of search engine bots to assess your content, it is important to make it crawlable. An XML sitemap facilitates the indexing of individual pages by Google although it does not have any effect on the actual ranking of your website for any particular keywords. As you add content and pages to your website, such as new products, Ecommerce platforms that generate XML sitemaps automatically will make it easier for you too to update as well as create your sitemap.
Bonus features that improve your Search Engine Optimization
Although these are less important than the above, any Ecommerce platform that also offers any of the following features and tools prove their SEO credentials.
Best SEO eCommerce Platform Online : Tracking the Details with Google Analytics
Any Ecommerce platform worth their salt will support simple code when it comes to Google Analytics, the ones to look for are those that also offer you tracking capabilities. So be sure to enquire about the former when considering which Ecommerce platform is going to get your business. This feature will allow you to analyze more in depth how your content is affecting sales.
Additional useful features to keep in mind include custom landing pages, maintaining a blog and meta tags. So make a checklist of key SEO features and useful tools like eCommerce content management prior to doing your research and come back to visit us for more tips and advice on how to make SEO work for you.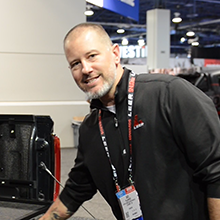 BEDSLIDE - Client Testimonial
"The best thing out of everything was that our sales went up. The new site had a better design, the checkout process was better, and ultimately achieved all of our goals. That site has been up for a year and a half and we're very happy with it, it's still awesome." - Jake Plappert