AIMExpo 2016 in Orlando, Florida with Web Shop Manager
This year will mark the fourth edition of the American International Motorcycle Expo (AIM Expo) that is to be held in Orlando, Florida from October 13th to 16th, 2016 at the Orange County Convention Center. In a very short space of time, it has become the leading Expo across the country, attracting close to 19,000 attendees for the AIM Expo 2015 edition and originating from more than 50 countries worldwide as well as from all 50 states in the US.
Last year's figures are impressive with over 560 exhibitors, including many world-renowned brands represented. Over 3,380 industry professionals interacting with over 11,000 consumers all underone roof, under the watchful and ever keen eye of close to 300 media professionals. Exhibitors and consumers alike, including Web Shop Manager, all agree on the success and usefulness of the AIM Expo for the breadth and quality of networking opportunities that attending affords everyone.
American International Motorcycle Expo
One industry professional interviewed praised AIM Expo for the quality of distributors from all over the world that he was able to connect with over the course of the trade days, which was followed by the chance to talk and socialize with like-minded motorcycle and power sports petrol headsover the course of the weekend. "We can't wait to return to Orlando!" he concludes.

The AIMExpo 2016 edition promises to improve on last year with new brands attending for the first time, including KTM North America, Inc., who will be the seventeenth latest OEM addition to announce their participation at the upcoming AIMExpo 2016. According to a recent press release, they will be debuting this year at the Orange County Convention Center (OCCC) in Florida, presenting a previously unseen exhibit space as well as a full line-up of all their latest products. Further novices to the event will include such legendary brands as Moto-Guzzi, Vespa and Piaggio representing Italian mechanical mastery and machismoin all its glory. Attendees who make their way to the AIM Expo Outdoors area will even have the privilege to take them for a test ride, so be sure not to miss out on that opportunity if you intend to attend.
Web Shop Manager is proud to be attending the AIM Expo 2016 this year. Our team is looking forward to meeting old and new friends alike in Orlando. It is a fantastic occasion that highlights the direction in which the industry is moving over the course of the coming year. So be sure to visit us for an informal chat and see you there!
For more information, visit the official site.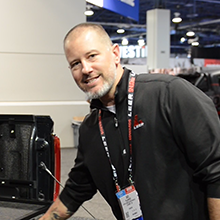 BEDSLIDE - Client Testimonial
"The best thing out of everything was that our sales went up. The new site had a better design, the checkout process was better, and ultimately achieved all of our goals. That site has been up for a year and a half and we're very happy with it, it's still awesome." - Jake Plappert