CDK Global and Web Shop Manager Data Integration
CDK Global, Inc. is an independent company that trades on the Nasdaq. It was formerly known as ADP Dealer Services until changing its name almost two years ago on October 1, 2014. CDK Global is the world leader in providing integrated information technology solutions and digital marketing tools specifically for the automotive retail industry. This is the reason why Web Shop Manager is proud to work so closely with CDK Global.
WSM's ability to interface with third party software is what helps to make it the most comprehensive eCommerce Content Management System. With WSM we have the ability to help our clients make more money more efficiently. One way is with eCommerce website partnerships like the data integration with CDK Global.
Products listed within WSM are able to map to CDK Global
The enhanced product data importing feature from Web Shop Manager to ADP Lightspeed meant that combinations of product options, for instance red-small t-shirts or medium small t-shirts, would need their own specific SKUs and inventory management controls within WSM. Within each product in WSM, product option configurations can be assigned essentially creating sub-products.

The Web Shop Manager Content Management System or CMS, integrates product data in real time with ADP Lightspeed. The benefit to our customers is they are able to process orders, manage content and products better. For a live demonstration see Web Shop Manager at the 2016 PWA convention.
The following data is imported automatically to new purchase information created on Web Shop Manager:
Real time details of all customer information, on new orders

Order Status flexibility from ADP. Manually change order status if required (canceled, backordered, complete, etc)

Mapping details for brand information for Lightspeed

In the configuration area of Webshop, there are now selections for sales tax.

Customer's selections now provide enhanced product information.
The more things change the more they stay the same.
Despite the name change in 2014, the core principles and philosophy of the company have remained the same. The expert team stayed on, maintaining the same level of reliability, expertise and scale that customers had become accustomed to over the years. The most significant change in the past two years in senior management has been the nomination of Brian MacDonald as CEO of CDK Global, having joined the company after a long and successful career in the automobile industry. He moved to CDK Global from Hertz where he was acting Chief Executive Officer and President of Hertz Equipment Rental Corporation. Prior to this, he also occupied several managerial positions throughout the General Motors Corporation as well as occupying the role of Treasurer for GM Canada, a $28 billion operating subsidiary.
As a result of the continued striving for excellence, CDK Global published at the beginning of July this year a record number of dealer renewals in its fiscal fourth quarter of the year, ending June 30, 2016. Customers reportedly cited increased levels of service as the company pursues the transformation of its operations.
"CDK is laser focused on our customers and listening carefully to their business needs," said Brian MacDonald, chief executive officer of CDK. "Recently expanded programs, like Service Connect, and better processes have helped us dramatically improve our service levels, and customers have taken note. CDK has a clear transformation plan, and the unprecedented level of renewals representing nearly 10 per cent of all franchise auto and heavy duty truck dealership sites in North America is a tangible expression of our customers supporting our plan."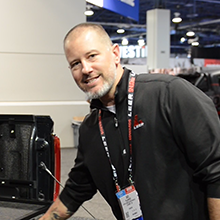 BEDSLIDE - Client Testimonial
"The best thing out of everything was that our sales went up. The new site had a better design, the checkout process was better, and ultimately achieved all of our goals. That site has been up for a year and a half and we're very happy with it, it's still awesome." - Jake Plappert