Online Shopping vs In a Physical Store Shopping
There was a time when owning a business with a physical location gave you an edge. The consumer had more confidence buying from a store in a brick and mortar building because they knew they could walk in to view items before purchase, to walk right back with returns, and never had to worry about where to find you for someone to talk with face to face.
Well, those days are long-gone.
Not only are people consistently buying from stores that began online with no physical shop to walk into, but they are finding that they have a better variety and more flexibility.
However, that doesn't mean that brick and mortar stores are being phased out completely. There are pros and cons to both, and here we look at those to help you make the best investment with your time and money.

Brick and mortar retail store vs online e-commerce shopping experiences
When looking at the pros and cons of e-commerce versus brick and mortar, we're only going to focus on two (very important) aspects: cost and time. When it comes to starting any business, these will be critical to ensuring a long and prosperous career.
Management and Operations Cost
Brick and mortar: It's no secret that the cost of running a brick and mortar business is going to be more expensive. You'll have rent, electricity, and all of those bills that come with a physical location, as well as require a larger staff and contract commitments to all the above.

E-commerce: Because you can start an e-commerce business website straight from your home, you won't have to worry about the expensive start-up costs. You'll just need a website and URL, some stock (unless you're drop shipping) and as much investment into marketing as you can afford.
Time Invested in a Physical Store
Brick and mortar: If you ask current owners of brick and mortar businesses how much time the spent at their store when they got started, they'll say A LOT! You have to perform almost all duties from the building beyond hours of operation. Some owners even have a pullout sofa in their office so they can sleep there when the hours get long in those first few years.

One place that you'll save a little time though is marketing because you'll have a physical place that people drive and walk by on a regular basis. Of course, that's all dependent on finding the right location that is popular and gets a lot of traffic, and these spots can get pricey and competitive.

E-commerce: The time you save when you have an e-commerce store is pretty significant in comparison to a standing building. There's no commute, no cleaning shelves and windows, and other tasks that can take up more time than people realize. Plus, you have more flexibility in choosing when to perform certain tasks.

When it comes to marketing, you will have to spend more time learning how to reach and attract your ideal audience, but once you get going you will have more options to scale and automate. Instead of gaining one hundred local customers, you have the potential to gain thousands of customers from across the country (or worldwide),which can be built on over time.

Online Shopping vs In Store Shopping: Consider today's shopping patterns
While weighing the pros and cons of starting a brick and mortar store or going with e-commerce, you want to look at how people shop today. It's not as it was twenty-five years ago. Heck, it's not the same as it was two years ago – and it will continue to evolve.
What happened? Well, technology has changed the game.
To explain this further, let's look at an example of a parent whose teenager just started driving and they've already managed to rip the door handle off the old family car. These days, the first place they'll run to is the computer, or they'll grab their smartphone and look up how to fix the problem.
Is Brick and Mortar Retail as Dead as a Dodo?
As they do some research, they'll likely come across an automotive e-commerce store that will produce the exact door handle needed for the make and model of the car simply by plugging in a little information. The part is ordered, the teenager is relieved, and the parents can get on with their day.
Now imagine that they take a fifteen-minute drive to the nearest auto parts store. They look at the different handles, unsure of which one to get. Maybe they went online and learned the style, but don't see it on the shelf. So, they wait in line only to find out that the part has to be ordered. And then they can drive back to the auto store to pick up the part when it arrives in a few days.
Which method of shopping would you prefer?
Many would prefer online ordering because it has saved a ton of time and a few headaches. And because it's being shipped direct, there's no phone call during work to say your part arrived and no going out of your way to swing by a store in rush hour traffic to grab it.
Whatever you choose – go all in
No matter what business design you decide to go with, the important thing is to go all in. People crave quality shopping and easy ways to purchase, and you can't give this to them unless you're dedicated. If you already own a brick and mortar business, then it might be time to expand it by adding an e-commerce element to your website.
Even if you do plan on going with a physical location, your marketing campaign will need to be online in some way shape or form. So, if you want to save yourself some hassle and time, start with an e-commerce website for an inexpensive way to test the market and steadily grow your business, and then move into the world of brick and mortar if and when you're more prepared for the higher costs.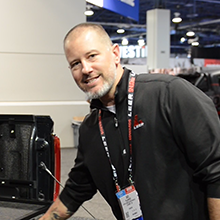 BEDSLIDE - Client Testimonial
"The best thing out of everything was that our sales went up. The new site had a better design, the checkout process was better, and ultimately achieved all of our goals. That site has been up for a year and a half and we're very happy with it, it's still awesome." - Jake Plappert