How to Write an Action Plan for Email Best Format
There is an art to a successful email marketing campaign, and this area of business is getting lost in all of the noise online. Knowing how to write an action plan is an integral part to any campaign.
Even some of the biggest names in e-commerce struggle to reach their optimal customers through email and simply send out generic blasts just to check a box off of the ole' to-do list.
We've all received those blasted emails with a brands e-commerce logo from stores we subscribe to (and from our favorite places to shop no less).
However, by taking a few actionable steps, you can get your email marketing campaign moving in the right direction and finally see that email ROI that everyone has been talking about.
Let's not waste any more time!
Step #1: Create an action plan with a perfect email.
While you might want to dive into the content of the email first – we're going to have to hit pause.
Before you write a lick of content or design an eye-catching sales page, pay attention to the name you're displaying in the "from" box of your email. You don't want it to say "no reply," and you want your brand name to be visible here.
Next, you'll need to get your subject line in order. If your subject lines don't engage the reader, they won't open the email.
Period.
The subject line is the most important aspect of the email, so make sure you capture your audience with these words.
Next, you'll want to work on the body of the email and individualize it for the customers that you're sending it out to. Make sure you have both text and images, so you don't get forwarded to the spam or promotions box.
Test your content to ensure it is mobile-friendly and that your text still looks good when viewed on a device that has disabled images.
Always be honest and to the point in these emails and make sure you mix it up when it comes to content. If you send the same email over and over, it will get tired and so will your customers.
We'll dig more into the direction the content should go in when we get into the email funnel stages.
Step #2: Utilize the best business action plan sample tools.
The business action plan software is critical when running an email marketing campaign – especially for e-commerce owners.
There are a few qualities that are essential when deciding on email software for your brand (we like Klaviyo, but you can choose the one that suits you best).
Having features such as cart reminders, segmentation options, personalized newsletters, web tracking, and order confirmations will give your campaign a boost and you a break while simultaneously optimizing your ecommerce website management.
You'll also want to take the time to invest in pop-ups (the least annoying and most productive one being the exit-intent pop-up).
Step #3: Implementing the 3 email marketing funnel stages.
Now let's look at the different stages that customers will be in when they're on you email list and the best plan for customer acquisition and to reduce costs is to approach them to increase conversions.
Stage 1 – Interested
In the first stage, someone has signed up to be on your email list, but they haven't purchased anything yet.
Email #1: Welcome them into the family and introduce them to your brand. Supply them with links to your social media and website, and give them an incentive to make that first purchase.

Email #2: Send a nurture email that shows you care and understand their desires and needs. You can soft sell here, but the idea is not to sell, but provide something of value with no strings attached whether it's information or entertainment.

Email #3: Now you can hard sell with that first promotion.
Here's an example of a welcome email from Nike. The only thing missing from this is an incentive to make that first purchase such as a 10% off coupon.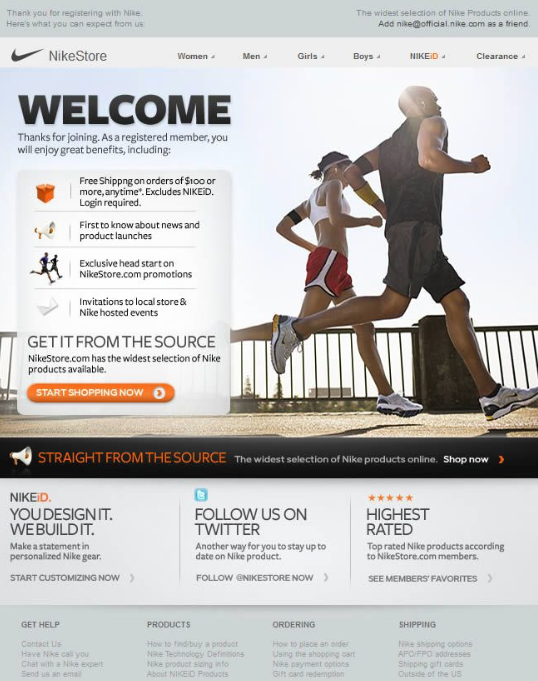 Stage 2 – Engaged
In this stage, you've captured one or many sales from the customer. You've already welcomed them to your brand, and your goal is to keep them engaged so that they continue their purchasing patterns.
Email #1: Send them shipping and arrival information and include the best product suggestions for their next purchase.

Email #2: Thank them for their most recent purchase with more product suggestions.

Email #3: Ask for a product review to let them know that you care what's in your store, and you want to ensure they were satisfied.

Email #4: Send a time-sensitive incentive that is exclusively for them and the products they enjoy buying.

Email #5: Remind them of the time-sensitive incentive when there are only 24 hours left to grab it.
Here's an example of a time-sensitive incentive from ThinkGeek. You can see they have the sale down to the minute. And while this isn't necessarily meant for one person, it gives you a good idea of the sense of urgency you're trying to create when you write an action plan for business.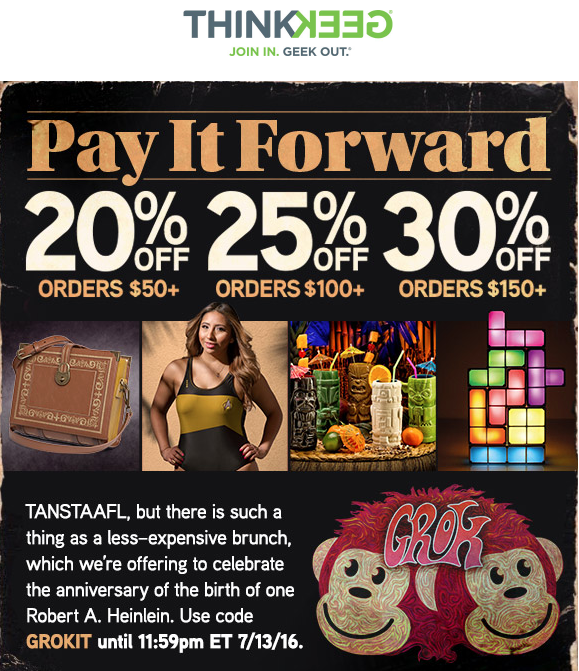 Stage 3 – Develop a Plan of Action for Lapsed
And the final stage of emails is for those customers who have purchased in the past but have dropped off over the last few months. Now it's time to reactive them to open and click on emails again to make those purchases.
Email #1: Let them know you've missed them. You can provide a small incentive at this point to reel them back in. You can also ask customers to fill out a survey for a percentage off and ask them why they haven't been back.

Email #2: Give them a HUGE offer that will make them look twice. If you're serious about re-engaging these customers, then you'll probably break even on the deals offered (you may even be out a little money), but giving people 75% off or free shipping for a year will peak their interest.

Email #3: Remind them of the fantastic (almost too good to be true) offer that's on the table for their next purchase, and let them know they have a limited amount of time before they are removed from the email list.

Email #4: Unsubscribe them with a polite attitude and give them an opt-in link so they can come back when they're ready.
Here's how Vistaprint does it: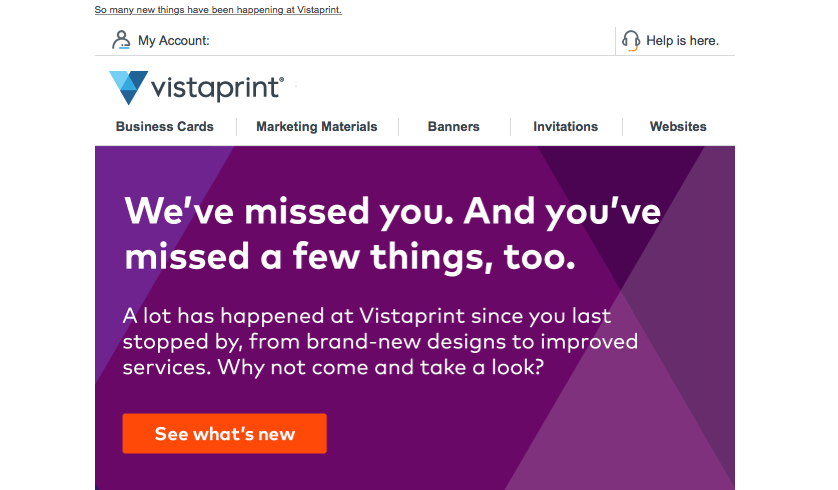 Step #4: Plan of Action Samples - Testing to maximize ROI.
The last step of creating an email marketing action plan is to test continually. Test the content, the discounts, and the pattern and times that you send emails out.
Every e-commerce store will have a different customer base that will expect various elements from your emails.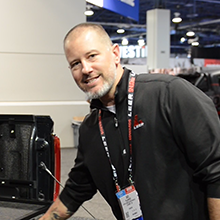 BEDSLIDE - Client Testimonial
"The best thing out of everything was that our sales went up. The new site had a better design, the checkout process was better, and ultimately achieved all of our goals. That site has been up for a year and a half and we're very happy with it, it's still awesome." - Jake Plappert