Web Shop Manager receives four Gold Muse Creative Awards for website redesign
In June 2016, the results of the Muse Creative Awards were released to great praise. Web Shop Manager was recognized for their work with five of their clients who worked closely with Web Shop Manager to redesign their websites. Along with four Gold Awards, they were also awarded an honorable mention for the following ecommerce websites.

Winner of 4 Golds at The 2016 Muse Creative Awards
The Muse Creative Awards aim to highlight and reward the dedication and inspiration of creative professionals in the field of electronic media as well as traditional materials, regarding the unique impact of their creative design, content and concept such as recognizable logos and taglines. These awards are named Muse as they seek to recognize and underline the driving forces behind what motivates creative people to fine-tune their work in an attempt to create something truly inspirational and effective. As with painters and writers of the past and present, a muse is a source of creativity that can be called on when necessary to inspire the artist.
Entries are accepted from freelancers, graphic design companies and web and digital entities that bill less than $30 million annually. Submissions are welcomed from all around the globe and must have been produced after January 1st 2014, allowing a two-year window to establish their impact. The entries are reviewed 30 days following the deadline by a group of senior-level peers and graphic design and advertising specialists from international agencies across the world.
Web Shop Manager reaps the benefits of working closely with clients
Web Shop Manager was recently recognized for their remarkable reworking of three Ecommerce sites, one Consumer site and one Business to Business client. They were rewarded for their work in redesigning and renovating the image of their clients as well as making their websites more accessible and more appealing to end-users.
The Muse Creative Awards has recognized the professionalism and creative input of Dana Nevins, Founder and CEO of Web Shop Manager and his entire team on four separate occasions with four Gold Awards plus an Honorable Mention. It is a clear recognition of the devotion and hard work that Web Shop Manager has accomplished over the past two years in the service of their clients and ecommerce careers.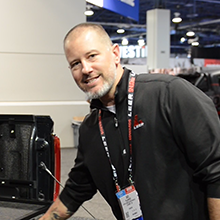 BEDSLIDE - Client Testimonial
"The best thing out of everything was that our sales went up. The new site had a better design, the checkout process was better, and ultimately achieved all of our goals. That site has been up for a year and a half and we're very happy with it, it's still awesome." - Jake Plappert