Ecommerce: 3 Ways to Attract Customers That Are Ready to Purchase
There are a lot of people who come to your online store and don't buy. And while you might see an abandoned e-commerce cart or a window shopper, the truth is – they were ready to convert, but you just didn't give them that extra push.
Don't forget (even behind the computer) you're in sales.
And while you don't want to come across as those stereotypical, pushy salespeople, you do want to recapture those sales that were lost because of people who second-guessed their decisions, lose their connection, or are buying from their smartphones (and beyond).
#1: Use effective-abandoned cart emails
People who get very close to the end of a sale are often going to be easier to convert than those who are just in the research phase of the process.
Imagine yourself in a real life shopping scenario – you're at Lowe's, and you've been thinking about getting a new chainsaw because a tree recently fell in on the fence in your backyard.
You don't want to ask your neighbor to borrow his again, and you've been thinking about making this purchase for some time, but the tree falling has solidified it.
You've done the research but are still unsure if you really want to open your wallet, and you decide to leave.
One week later, Lowes sends you a 10% off coupon in the mail, and you go back to stare at that same chainsaw. A customer service member gives you a little more detail about features and benefits, and you're finally confident enough to make the purchase.
It just took that little "extra" and the sale was final.
The same goes with effective abandoned cart emails. If the item was in the cart and they decided it wasn't right for them, you simply need to offer more incentives and information.
#2: Launch mini social media stores
Promoting a small number of popular ecommerce news items on social media is an excellent way to boost sales and showcase what you have to offer on your larger website.
Here you should focus on trends that people are already purchasing in large volumes.
If you want to do some research on what to promote then look to best sellers on e-commerce stores like Amazon, Overstock, or you can look to a niche site.
#3: Design a clean and easy to navigate web store
We know – you've heard it all before from your e-commerce consultant. Your web store needs to be easy to navigate, and it's got to be appealing to the eyes if you really want to see a boost in sales.
We're saying it again because it cannot be stressed enough.
You can have someone who is antsy to make a purchase, but if they don't trust your e-commerce store, or they find it difficult to complete the process, they'll go to someone else who sells the product.
It's easy for customers to lose focus, but when you apply a few simple (and proven) methods, you'll see the ROI and love the boost in sales.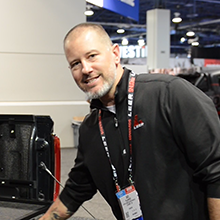 BEDSLIDE - Client Testimonial
"The best thing out of everything was that our sales went up. The new site had a better design, the checkout process was better, and ultimately achieved all of our goals. That site has been up for a year and a half and we're very happy with it, it's still awesome." - Jake Plappert