Content Creation : Sales Copy that Pays Big Dividends
If you have an online business, then there's no doubt that you've created sales content with the intention to engage, enlighten, and convert (and keep) customers.
And there's probably a good chance that you've heard crickets when it was published.
Don't worry – even the best content creators in the industry have experienced this, and it can be discouraging when you get little to no results.
But, when you apply a few fundamental elements to your content, you'll be amazed at the ROI, leads, and increased traffic that you'll achieve.
Next time you sit down to write a bit of content, utilize these tips to get best results.

Focus on organic traffic
For starters, you want to focus your content on a specific group of people for your car design website, and those people will be searching for you using organic methods. The content for them would be significantly different than a site for local car parts.
When you optimize your content and perform keyword research, be as detailed as possible. We know that it's important to cater to search engines, but only to an extent.
Yes – rankings are important! But at the end of the day, you want to be sure you're providing value to your customers and not solely focusing on bots that crawl your website.
Of course, you'll need to keep both in mind, but go into your content projects thinking of the reader first, and search engines second.
Don't tell people – show them
We all get told what we need to be doing and how our website should be performing. But this style of content writing can easily get lost in the noise online.
If you want more leads and conversions, then show people how you can improve their lives.
You can use tutorial videos, detailed infographics, and provide examples of real-life experiences.
Use attention-grabbing techniques
Some of the best attention-grabbing techniques include leveraging trends, using stunning images and vibrant colors, surprising people with facts, giving people secrets of success, and even utilizing animals in your marketing plans.
As an example, it's been proven in marketing long before the internet that animals are a useful marketing tool.
Think about a television or movie scenario where you have a person and a dog running from danger like a fire or flood. There's always one person in the room who could care less about the main character, and they say, "What about the dog? Did the dog make it?"
Give industry leaders something share-worthy
One way to get some serious traffic to your site is to give leaders in the e-commerce industry something they haven't seen before. When you do this, it will peak their interest in your brand, and they'll share your material or even use it in their own sales content to help prove a point.
Bringing in one person that is already trusted as an authority can take your business to new heights over night.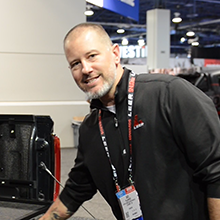 BEDSLIDE - Client Testimonial
"The best thing out of everything was that our sales went up. The new site had a better design, the checkout process was better, and ultimately achieved all of our goals. That site has been up for a year and a half and we're very happy with it, it's still awesome." - Jake Plappert