How to Generate Sales on LinkedIn
With millions of members on LinkedIn, it's surprising that more e-commerce businesses aren't creating marketing plans to reach these potential customers. Many don't because they see it as a place that professionals go to find work and advance in their career.
And while this is the case for some, as a business owner, you can also hit a pretty big demographic of people with steady paychecks and a love for buying goods and services online.
Here are a few ways to utilize LinkedIn and generate those leads that turn into sales.

Complete your profile
When people become interested in connecting with your online business, the first place they are going to look is your profile.
Make sure it's complete and professional with a photo and have links for them to get to your website. You should also allow them to connect with you on other forms of social media here.
Connect with groups
There is something more intimate about joining a group on social media, and you can learn a lot about what potential customers are saying.
In LinkedIn groups, you'll find that people will give you more information about their experiences with the competition and similar businesses to yours.
Plus, groups give you more access to connect with others who share an interest in the niche that you're trying to promote.
Generate content to publish on your feed
Many online businesses are finding the value in creating separate content for the people on LinkedIn. While you can share blog posts on your website or other social media platforms, keep in mind that people on LinkedIn aren't there for entertainment per say.
They want to advance, and are interested in learning, and are a little more persnickety about valuable content than those that hang out on Facebook and Twitter - not that we don't appreciate the content on other platforms!
Endorse those that you connect with
When you connect with industry leaders on LinkedIn, take the time to support them. Be honest about who you support because you want it to be someone who brings quality to the table, and your potential customers will understand why you would think highly of this person or business.
Pay attention to those that look at your profile
When you pay for your LinkedIn account, you can get the whole list of people who have checked you out (the free version will limit you). You can then, in turn, reach out to them and preview their profile as well.
This gives you insight as to the demographic of people that are interested in your automotive products or retail services.
In the same vein, you can look at the profiles of those who fit your target demographic and in many cases, this puts you on the radar, and they'll look at your profile as well.
And as with any social media platform -- the key is to engage! Even if you're only winning one customer over at a time, it's worth the effort.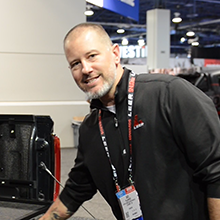 BEDSLIDE - Client Testimonial
"The best thing out of everything was that our sales went up. The new site had a better design, the checkout process was better, and ultimately achieved all of our goals. That site has been up for a year and a half and we're very happy with it, it's still awesome." - Jake Plappert