Customer Retention: Successful Ways to Reward Customers and Gain Loyal Shoppers
When running an online business, it's critical that your customers are loyal. You don't want their business once – you want it over and over again.
However, as new e-commerce stores and businesses pop up online, it can be tough to keep the attention of the people who have traditionally come to you for services. After all, we all like to check out the latest and greatest thing on the block.
Here are a few ways that you can keep shoppers loyal, even when someone new comes in trying to take their business.

Have a customer appreciation day
Go ahead and establish a customer appreciation day whether it's once a week, month, or year. You can do this for your entire customer base, or you can select one or two people based on a contest or survey you send out. Either way, shoppers will see that it isn't a one-way street and that you notice and give back to them by offering them savings.
Start a referral program
If you want to see your online business snowball into success, then start a referral program. People love getting discounts because they sent a friend your way, and you'll have the opportunity to double (if not triple) your customer base.
Send a thank you email with a coupon
Don't just throw out coupons willy-nilly! Sometimes you need to pair them with a genuine thank you note that simply says these deals were created for you, and they're our way of saying thanks.
You can do through email, but if you really want to go the extra mile, send the note via snail mail and have a discount code in the letter.
The more you take the time to reward your customers, the more value they'll find in your online store versus the new kid in your niche.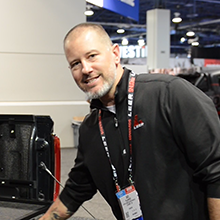 BEDSLIDE - Client Testimonial
"The best thing out of everything was that our sales went up. The new site had a better design, the checkout process was better, and ultimately achieved all of our goals. That site has been up for a year and a half and we're very happy with it, it's still awesome." - Jake Plappert