Social Media Hangouts: Where Are Your Ideal Customers?
It's not hard to find people hanging out on social media. There are billions of people logged on every day – but it is hard to find out where your ideal customers are.
Are they on Facebook? Yep.
Okay, where are they on Facebook? And that's when the headaches begin.
Don't give up on social media just yet, though. Here are a few tips to help find out where the heck your customers are.

Create a survey for current customers (and reward them for returning it)
If you've been working on your email list, then you have an incredible opportunity to use it when looking for social media hangouts.
Email a customer survey with some reward like free shipping or a complimentary consultation when they return it.
Do the research and look to experts in the industry
There are quite a few marketing and research centers that focus all of their time and attention on who is hanging where on social media and other ideas for e commerce.
Places like the Pew Research Center will break down the demographics (so be sure you know who your ideal customer is before visiting), and alerts us to their favorite website platforms.
Also, once you've seen what the experts have to say, do some research for yourself so you can dig deeper into who your potential customers follow and why.
Start connecting with customers – one at a time
As online business owners, we want things at the speed of technology – all the time. However, there is something solid about gaining social media followers one by one by giving them a positive experience, engaging with them, and treating them the way you would want to be treated – like a real and valuable customer.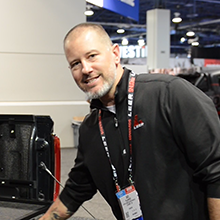 BEDSLIDE - Client Testimonial
"The best thing out of everything was that our sales went up. The new site had a better design, the checkout process was better, and ultimately achieved all of our goals. That site has been up for a year and a half and we're very happy with it, it's still awesome." - Jake Plappert