One SEO Tactic That Will Boost Your E-commerce Profits
We've all been bombarded with a multitude of ways to use an e commerce seo agency for our online businesses from keyword research to linking to responsive mobile web designs.
And if you've ever tried your hand at optimizing your e commerce website, you know that it's not easy! In fact – it's downright complicated.
However, as you continue to learn new SEO practices and update old methods, there is one tactic that you should be applying over and over again that will boost your profits in the long run.

Gathering and analyzing data
If you can't measure your SEO efforts, then you won't know your ROI, you won't have a place to look in the future when deciding to change your optimization strategies, and you'll miss the mark when it comes to reaching your ideal audience.
Getting started
The first step is to audit the framework of your site (and this means every inch). Knowing the past performance gives you insight into what your new goals should be when it comes to SEO for your ecommerce web site solution.
A complete SEO site-wide audit clues you into where you're falling short when people are searching for you such as site speed and backlinking.
However, you should also learn how robots read your site by learning how to use tools from Google and other sources. This way, you not only improve your efforts when designing your content for humans, but you know what you can do better when bots are looking at your site.
Frequently study your efforts
Gathering SEO data will not only help you identify issues you didn't even realize were slowing you down, but it will help keep your efforts in tune so that you immediately notice when you drop in sales.
This way you can adjust your methods quickly when a new competitor starts taking some traffic or Google has updated an algorithm that has affected one of your pages.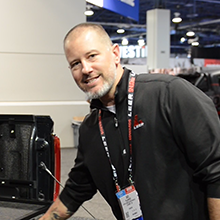 BEDSLIDE - Client Testimonial
"The best thing out of everything was that our sales went up. The new site had a better design, the checkout process was better, and ultimately achieved all of our goals. That site has been up for a year and a half and we're very happy with it, it's still awesome." - Jake Plappert