E-commerce Logo Design Strategies for 2016 and Beyond
Whether you like it or not, the reality is, your logo will affect your business. It gives people a quick visual to identify your company and works harmoniously with the other elements of your brand to enhance it.
Here are a few ways a logo will affect your business, and how to make the most of the design.
It sets you apart online
Competition is pretty steep these days, and you might not realize how much your logo needs to be out there. Social media posts, email signatures, secure checkouts, receipts, and more should have your recognizable logo proudly displayed.
When you have a professional grade logo design from Web Shop Manager, you'll notice this will have a positive effect on how people react to you. In the same vein, if you have a low-quality logo, people will assume the rest of your business is on the same level.

It enhances your message
Online businesses have a message that they are trying to get across to their audience, and when you have a logo design that isn't clean and made with purpose, you'll find that it will distract the viewer, rather than intrigue them to stay.
It gives customers confidence
Online shoppers are looking for stores that are reliable and trustworthy, and your logo is part of the equation that makes that happen.
When it comes to logo design, there is one thing to remember – don't overthink it.
As your brand grows and you evolve as a company, you'll find that your logo can adapt and change to what is currently modern. Wal-Mart, Apple, Starbucks, Google, Netflix, and the list of successful companies goes on that have updated their logos to match their current branding strategies.
Start with a clean and professional grade logo, and as you take your online auto business to the next level, you can adjust the design.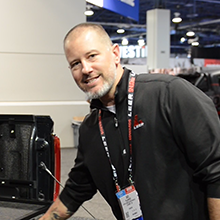 BEDSLIDE - Client Testimonial
"The best thing out of everything was that our sales went up. The new site had a better design, the checkout process was better, and ultimately achieved all of our goals. That site has been up for a year and a half and we're very happy with it, it's still awesome." - Jake Plappert