Target Market Strategy for E-Commerce Customers | Targeting for Audience Segmentation
A list of potential customers is an invaluable resource for your company and is key to growth.
To create the list, you need to utilize effective tactics and practices that are proven to attract the right people. And guess what – lead magnets are an ideal way to do that.
How to Build a List of Potential Customers
A lead magnet is essentially a trade. You offer something of value to your potential customers, and in turn, they provide you with their contact information.
When correctly done, you'll see a high ROI because you'll maximize those valuable leads. Here are a few things to keep in mind when you're creating lead magnets to ensure success.

Choose a topic that is interesting to your target customers
Narrow down your topic to be as specific as possible for your target audience. You want to identify a particular problem and become the solution. The more refined your topic, the more people you will attract that are in your particular market segment.
Be wary of broad topics because it will appear that you've attracted a plethora of fantastic leads. But, in reality, you'll find that you've only gained a handful of people willing to convert.
Decide on a lead magnet style that suits your target market
Once you've decided on the subject, there are a variety of styles that you can choose from. Each one has its own appeal and can get a lot of information across that your ideal customers are searching for. Automotive website design clients in 2016 will have different goals than customers looking for a great online t-shirt website five years ago.
Guides: Offering people a specific "how to" guide with an engaging headline has been proven time and again to get people to give you their contact information.

Resource lists: Resource lists will save people loads of time, and they often go looking for these online.

Video tutorials: Videos are becoming more and more popular because of the clarity they can offer, and they can be viewed on smartphones, tablets, and desktops.

Catalogs: Whether you have an online store, or you're looking for leads for your brick and mortar shop utilizing your website, offering pricing and specs on your products is perfect for grabbing your customers attention, and you can also have special promotions dedicated only to catalog holders.

Cheat sheets: People search online all the time for fast fixes to complex problems. A cheat sheet can come in the form of an infographic, excel sheet, blueprint, swipe file, or whatever design does the best job of getting your message across.

Free consultation: Depending on your particular business, you can go beyond getting an email. Offering a free consultation whether it be via Skype, phone, or in-office is an excellent way to get to know your ideal customer even more.

Exclusive deals: People love signing up for free shipping, coupons, and deals that save them money.

Free trials: With all of the noise online, consumers are getting more and more cautious about making purchases from your ecommerce website platform. But if you give them a test run first, not only will you gain their trust, but you'll get more valuable leads.
And the list doesn't end there!
There are white papers, software downloads, assessment tests, checklists, and more. Have your target audience in mind when selecting the style of lead magnet that will peak their interest and solve their problem. It will make life much easier for your ecommerce seo agency when you decide to start.
Have an eye-catching opt-in
Once you know what your lead magnet will be, it's time to design an eye-catching opt-in that is properly optimized. It should be well-designed and very easy for the customer to use.
Create content that is useful and easy to absorb
When creating the valuable content that you will be sharing with your potential customer, there are a few crucial things to remember.
First, don't make it complicated or long. You don't need to give people a course that comes through over thirty weeks or write a fifteen thousand word ebook. Give consumers the information they signed up for, but don't overwhelm them especially on complex topics like why you have the best ecommerce cms.
Marketing Segmentation Strategy
However, you shouldn't underwhelm them either by providing the bare minimum amount of details.
Second, don't think of it as free information. If you start creating your content with the thought that it's free, and you don't have to put as much into it – think again. You're gaining a lead, and that is worth money.
Once you get started, you'll realize just how valuable a quality lead magnet is as you build a long list of potential customers.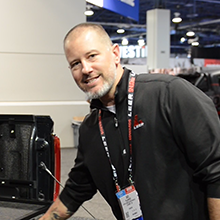 BEDSLIDE - Client Testimonial
"The best thing out of everything was that our sales went up. The new site had a better design, the checkout process was better, and ultimately achieved all of our goals. That site has been up for a year and a half and we're very happy with it, it's still awesome." - Jake Plappert