Validate the HTML of your ECommerce Website to Grow Sales
After you've overcome the hurdles of picking a profitable niche, designing your store with a turnkey ecommerce platform, and making smart product selections, you're finally ready to validate your site.
Validating your site is a way of announcing yourself as a quality contender in your market, and creating customer chatter before you even open the doors to make that first sale.
Here are ways to gain your customers trust and get people talking about your niche e-commerce site right out of the gate.
#1: Use industry standards
Using industry standards will not only give you more information about your products, but they will give you confidence when selling them. People do research now more than they ever have in the past, and they look for e-commerce shops that utilize certified and trusted sources when buying complex products.
#2: Properly optimize your site
You can create the most engaging and exciting content in your niche ecommerce site, but if you don't properly optimize it, it's going to be tough for the people searching for specific products to find you. You don't have to master every aspect of SEO but start learning and applying what you can today, and continue to build on that knowledge.
If you simply don't have time to optimize your website, you can hire someone to do it for you in-house or find an outside company. Whatever you choose, make sure this is on the top of your list because it will have to be updated on a regular basis.
#3: Grow your authority
Don't just flat line as a relative expert, but continue to expand your knowledge in your niche and with the products. Continue to reach out to other authorities when appropriate and look deeper into the complex components to find even more ways you can be of service to those in your niche.
#4: Continually update products
Your customers will find you a reputable and validated source when they know that they won't get outdated information and products from you. Have a practice in place that ensures you're continually updating products and staying current with upgrades and trends.
For example, when you don't update your products, you might continue to list items that are obsolete or have been replaced by a different model. When you ship those to your customers, and they find out they have a dated component, they'll become hesitant to purchase from you again.
#5: Don't let social media accounts grow stale
Having social media outlets that you've started and never kept up with can give customers the wrong impression about your business. In fact, they can make you look like you just don't care.
When you start a social media account have a set schedule and strategy in place, and go ahead and create more posts than you need, so you always have one ready when you're busy.
Creating a buzz on social media is also a fantastic way to presell your store to ensure that you have visitors eager to check it out when you launch.
Here's a Facebook post Jet.com used to help presell their site before the e-commerce store went live.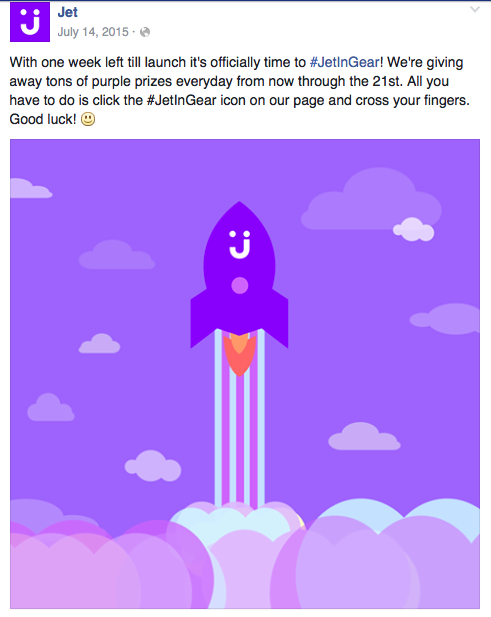 They are getting people involved with a giveaway and use hashtags appropriately to get their message out.
#6: Use smart expansion practices
For most of us that start an e-commerce store, we have goals to expand. And you should want to grow your business, but don't just do it for the sake of getting bigger. Make sure that your business grows using the best practices and does it at the right time.
#7: Don't leave customers guessing about policies
Your policies such as how you handle returns and shipping costs should be up front and transparent. Customers should never have to assume that your policies are the same as your competitors or a big e-commerce store.
Provide a phone number, email address, live chat, and other tactics that prove you are an easy company to do business with whether you have returns, shipping issues, back orders, and other situations that can arise when shopping online.
Home Depot has bolded shipping information that you can click on to find out shipping costs, guidelines, and it addresses all of those other questions a customer may have about their policies. Plus, there are multiple places on the page that you can live chat with customer support if you find anything confusing.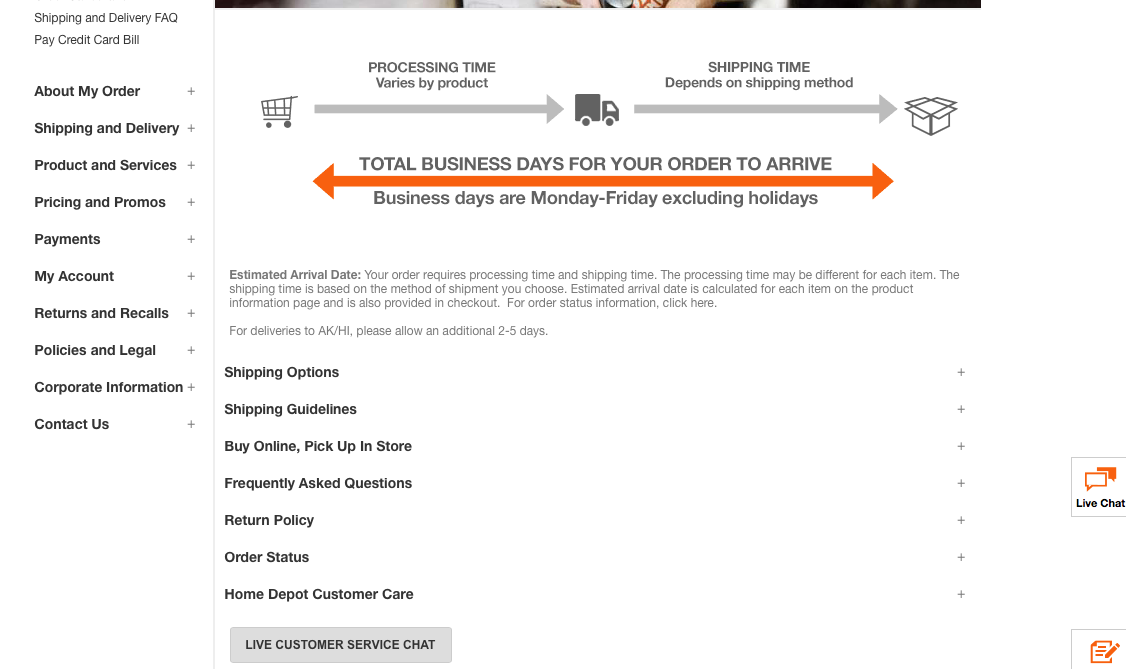 #8: Enhance the About Page
Your About Page should give customers a personal look into you and how your business got its start. Outside of the home page, the about page is one of the most frequently visited pages of a website.
As you expand and people recognize your brand a little more, you won't see as much traffic to this area, but when you're at the beginning people want to know where you came from and what inspired you to start selling the items in your online store.
#9: Engage with your customers
Don't just sit back and watch as customers communicate with one another – get involved and have a voice in your market. And it's okay to go off topic. Remember that customers don't always like to be sold, and just getting involved with something they enjoy can give you a chance to introduce yourself and let them know what you're doing.
#10: Never stop marketing
If you're in business for the long haul, then you should continually be learning about the best online business practices for marketing within your niche, including ecommerce content management, product attributes, the latest innovations, industry trends, and the latest and greatest social media platforms are something to pay attention to, as well as the up-and-comers in the industry.
But whatever you do, keep marketing your online store and don't be afraid to change direction when something isn't working. In our modern world, we have the chance to test an idea one day and scrap it the next if we don't like the results. Use this to your advantage and you'll have a fine-tuned marketing strategy on your hands.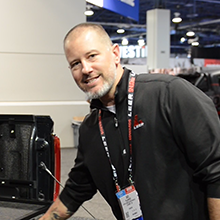 BEDSLIDE - Client Testimonial
"The best thing out of everything was that our sales went up. The new site had a better design, the checkout process was better, and ultimately achieved all of our goals. That site has been up for a year and a half and we're very happy with it, it's still awesome." - Jake Plappert